"…perhaps the clock hands had become so tired of going in the same direction year after year that they had suddenly begun to go the opposite way instead…"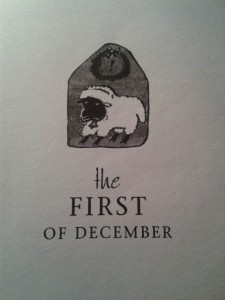 For our first Advent Book we have chosen The Christmas Mystery by Jostein Gaarder.
When we were putting together our Book Advent list we both immediately, and independently, suggested this book. We thought it would be interesting to share our personal thoughts on this magical read…
Rosie writes…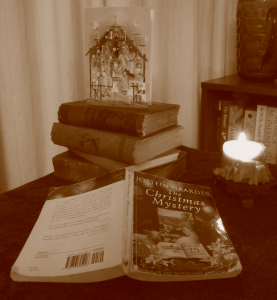 For me, this book is perhaps an unusual choice. I am not a religious person, and so I would not usually gravitate towards a book which follows a little girl on her quest through time and space to witness the birth of Jesus Christ in Bethlehem. However, the appeal of this book is that at its heart lies a thrilling story, and we share the excitement of the young Joachim, the protagonist who is discovering this story for himself. For Joachim the adventure begins when he finds a mysterious old advent calendar in a shop. Casting aside the gaudy, brightly coloured and chocolate-filled alternatives (much to his father's surprise), Joachim sets his heart on this calendar, which features a simple painting of the Nativity scene, with a cardboard door to open each day. The book is structured so that there is one chapter for each door, which makes the book a perfect pre-Christmas read for children, and the ideal choice for the first of our 'Book Advent' picks!
When Joachim opens the first door on the 1st of December, he finds a small piece of paper neatly folded into the space, upon which is written an intriguing story of a little girl who disappeared long ago, and he is hooked, as is the reader. I remember how, upon first reading this book, it was the idea of piecing together scraps of a tale, and keeping the mystery a secret, which really captured my imagination. Gaarder evokes the natural curiosity of childhood, and the magic and excitement of Christmas as seen through a child's eyes, whilst offering a new perspective on a timeless story. There are elements of Narnia in the world that Gaarder creates, except that instead of creating a fantasy world, he introduces us to a wonderful new side of our own world, taking us back in time on a whistle-stop tour through the sights of Scandinavia, Europe and all the way to the Holy Land.
Reading this book again after many years, I am pleased to say that it is just as enjoyable now as it was when I first picked it up. I would recommend it for all ages, as the perfect way to kindle your festive spirit!
Hannah writes…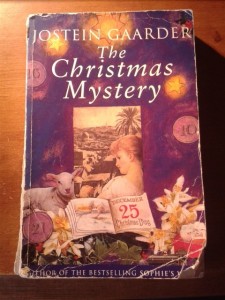 As you can tell from the photo of my family's rather battered looking copy of The Christmas Mystery, this is a firm festive favourite in our house. My Mum first read it to me and my sister as children and now, as an adult and committed Christian, I enjoy it even more.  I agree with Rosie that this story has broad appeal no matter which world-view you read it from, for as you turn the pages you will find yourself  just as eager as  Joachim to find out more about Elisabet's mysterious journey, the elusive John and the origins of a calendar that we'd all love to own.
It's fascinating to read all the historical and geographical gems that Norwegian writer Jostein Gaarder includes in Elisabet's unusual pilgrimage across Europe and time. We see the way Christianity grew from humble, often despised beginnings to be a faith held by thousands worldwide, and along the way we meet the original Santa Claus, hear the story of a rat catcher in Hamlyn and encounter a fair few angels, shepherds, wise men and sheep!
Whether you think it's true or not, the Nativity story is profoundly intriguing.  That the birth of a baby in such a lowly setting should be the source of hope and joy to millions of people currently, and throughout the 2000 years through which Elisabet travels, is incredible. Rereading Gaarder's novel once again, I was struck by the way the story of Joachim and Elisabet points to the sheer extraordinary in the very first Christmas. The Christmas Mystery doesn't shout about the implausibility of Christianity, neither does it force an apologetic for belief. Gaarder often explores philosophical ideas in his books and in The Christmas Mystery he does this with a lightness of touch that will leave you gently pondering. At the heart of this book is a beautiful story of childhood innocence, a mystery to be solved and a magical journey.
Joachim's story begins in a little independent book shop where he espies the magical advent calendar. I recommend that you begin in exactly the same place and treat yourself to the ideal book to read throughout advent.
Don't forget to check back tomorrow to see what's behind door number 2, or subscribe to the blog to make sure you don't miss a post!