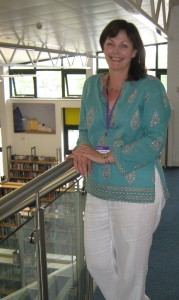 Today Steph Merrett joins us on the blog to open door number 4 and discover Elly Griffiths who will be joining us at the Festival in June. Steph is the manager of our wonderful public library in Felixstowe town centre. Knowing her to be a big fan of Elly's books she is the perfect person to tell us more about this fantastic crime writer…
One day while browsing through the website fantastic fiction looking for new authors to try, I came across a recommendation for Elly Griffith's Crossing Places. A story about a forensic archaeologist and set on the North Norfolk coast. Hmm, that sounds interesting I thought.
6 Ruth Galloway stories later (with the 7th due in April 2015) and I am totally hooked. A slightly grumpy dishevelled heroine, with a fierce intelligence and an enviable cache of one-liners. There is also an on off relationship with local DCI Harry Nelson which is probably doomed but I'm rooting for them anyway.
I would recommend starting with the first book The Crossing Places. Ruth is called in to consult on a body found on the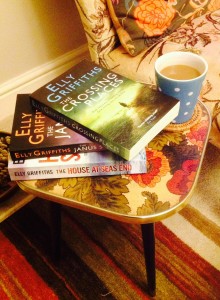 Saltmarsh close to an ancient sea henge "where the sea meets the sky". The body turns out to be Iron Age but it triggers an old investigation about a missing child 10 years previously.
A perfect present for anyone who likes a murder mystery or has an interest in archaeology and with the added bonus of being set in a recognisable landscape.
Elly Griffith has made visits to Suffolk on several occasions and I have missed her every time so her event at the Book Festival next year is firmly in my diary!
As well as hosting our young people's programme and writing workshops at the festival, Felixstowe Library organises exciting events all year round. They regularly host author talks, children's story telling and Top Time. And of course, it is the perfect place to go to find a few books to keep you in reading material over the festive period. The friendly staff team will only be too happy to give you a recommendation!