Today Anna Tink joins us to reveal what's behind door number 7. Anna is one of our wonderful festival volunteers. There's nothing she loves more than retreating to her beach hut with a good book… although maybe not this time of the year! Today is something of a 'double whammy' for the Book Advent as William Brodrick visited us in 2014 and he was such a hit with you all that he's returning in 2015…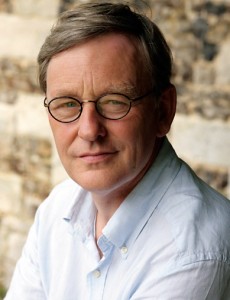 I am always up for a good crime novel, and many's the new Ruth Rendell, Peter Robinson,  Nicola Upson, or the late, much admired, PD James, that I've been delighted to unwrap on Christmas Day.
William Brodrick's writing in this genre is a welcome if unusual addition. His 'detective', Father Anselm, was previously a lawyer before forsaking such trappings for the life of a monk.  The crimes he explores, address huge moral and ethical issues that move beyond the actual plots that grip the reader. His are philosophical thrillers that absorb us thoroughly but also make us, as well as his characters, ask fundamental questions about right and wrong in their basic sense.
My favourite of his books is still his first, The Sixth Lamentation – spanning three generations, beginning with a betrayed heroine of occupied Paris during the Second World War, and moving fifty years onward to her granddaughter's quest for the truth of the past. Intertwined with this there is an old man seeking sanctuary in the priory that is Father Anselm's home.
This is a gripping, thrilling, yet tragic journey, assessing a period of our European history where we think we know the distinctions of right from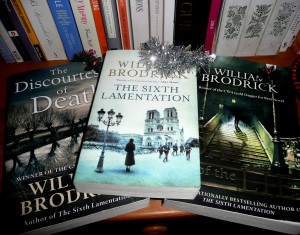 wrong. But our perceptions, and those of the characters, are challenged.  "…none of us are who we think we are." So says Lucy, the granddaughter with a mission.
There are no easy answers in this book, or indeed in any of Mr Brodrick's novels. His books face up, unflinchingly, to grim events of our past – the Holocaust, the First World War, the Cold War and beyond. These books are written with the author's own experiences to draw on, resulting in characters and situations that are very real to the reader. The monks in Larkwood Priory are very down to earth, with human failings as well as a calming spiritual otherness.  There are no easy endings to these books, and yet they are such a satisfying read.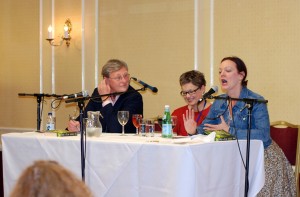 At this year's Felixstowe Book Festival, William Brodrick in conversation with the Polish novelist AM Bakalar, was riveting. We in the audience learnt a huge amount. We got vivid accounts of what it is like to live in a society so deeply affected by decisions and actions made in the past. It was not a conversation I will forget in a hurry, and like the novels, makes us reflect on how we live in the present with the history that has shaped us.
William Brodrick will return to the Felixstowe Book Festival in 2015, and we shall look forward to welcoming him back.
In the meantime, any of his titles would make great Christmas presents for crime and thriller fans, as well as any of us who like a philosophical and psychological challenge to get their teeth into.
By Anna Tink
We are sorry to say that, due to unforeseen circumstances, William Brodrick will no longer be able to join us at the 2015 festival.