And so we come to open door number 10 to reveal acclaimed author Patrick Gale who, we are delighted to announce, will be joining us at the festival in June. Who better than, avid reader of Patrick's books and festival volunteer, Anna Tink to whet our appetites…
Patrick Gale is one of my favourite authors, so the news that he will be joining us for Felixstowe Book Festival in 2015 was a very exciting early Christmas present!
I can heartily recommend his wonderful novel Notes on an Exhibition as a welcome addition to any Christmas stocking. I have read this book several times and get so much out of it each time I revisit it.
The story is structured round a reflection on the life of an artist, Rachel Kelly. Every chapter is inspired by an item belonging to her, or a work of her art. Rachel herself is portrayed as an incredibly vibrant, strong willed, despairing and joyful centre piece, around whom the other vividly drawn characters, in the shape of her family – long suffering husband and children, dance and whirl.
Like the central character, the book is gorgeously happily one moment, and deeply moving and tragic, the next. Mental illness and bereavement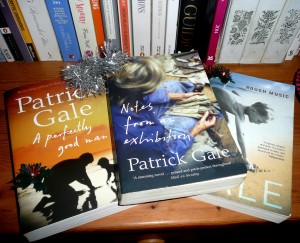 haunt the story. Promises are made and broken, secrets are revealed, characters are stretched to their limits. The reader is ultimately rewarded by a beautifully drawn ending to this tumultuous and lyrical novel.
We as readers travel with the family through the life of their talented, difficult, amazing wife and mother, and we see their own talents and charm as we are driven on to a conclusion that is hinted at throughout the narrative. It is a deeply satisfying journey right through to the very last page.
Mr Gale is the master of depicting the vagaries of family relationships and has an enviable talent for bringing people and places (Cornwall makes a magnificent backdrop) to life so vividly.
Other titles by Patrick Gale that would be a treat nestling under your tree this Christmas, include, A Perfectly Good Man and Rough Music, though any of his novels and other writing would be a festive reward for having been a good boy or girl this year. And next year we can really look forward to the publication of a new book, A Place Called Winter, coming out in the Spring.
We look forward to welcoming this West Country resident to our bracing Eastern shores for Felixstowe Book Festival in 2015!
By Anna Tink