Today's 'Book Advent' treat is a special guest post from one of last year's most popular speakers – crime writer Ruth Dugdall. Ruth is an award-winning author who began writing full-time after many years working in the probation service. Last year she participated in two fascinating events at the festival, including a sell-out talk with fellow writer Nicola Upson which looked into the enduring mystery of the 'Red Barn' murder here in Suffolk, and we're thrilled to confirm that she will be joining us again in 2015. Ruth is a long-term Felixstowe resident, but recently upped sticks to Luxembourg, from where she sends us this Christmas greeting!
"Schéi Krëschtdeeg!"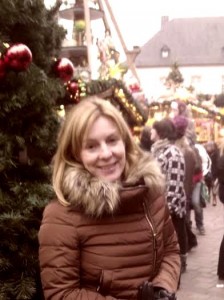 Living in Luxembourg, I'm surrounded by Christmas Markets, and the gluhwein flows readily here, helped down by Gromperekichelcher (deep fried potatoes served with apple sauce), or warm sweet waffles.
I hadn't expected to be away from Felixstowe, not ever, and living abroad has made 2014 a challenging but also interesting year. As a writer, I know that change and discomfort are both gifts; new experiences bring fresh insights and can take creativity to a different place. Before I packed my suitcase I signed a two book deal with Legend Press, for Humber Boy B and Nowhere Girl, thinking that having tight deadlines would keep me focused in a strange country where I had no friends and didn't speak the language. I'm pleased to say that those two things are no longer true, but the deadlines have certainly kept me busy! The biggest boost came when Meg Reid, organiser of the Felixstowe Festival, told me that Humber Boy B has been chosen as the festival read for 2015.
When the kids finish school on Friday December 17th I shall be driving straight for Calais. Back in Felixstowe I'm planning a trip to The Palace cinema on the Saturday, to enjoy a festive film with cheesy chips.  I'm strangely excited about the prospect of walking down Hamilton Road and seeing familiar faces, hearing the Suffolk accent again. On the Sunday I'll join Georgina Wroe on Radio Suffolk, along with my mum, and that's always a giggle. And then Monday will find me braving Ipswich, seeking out all those stocking fillers I simply can't find in Luxembourg (the list is growing, but so far: pug onesie for Amber and Cadbury`s selection box for Eden. And mince pies!)
Being home will be the best Christmas present ever, and on December 25th I'll be on the beach to cheer on the charity swimmers as they brave the icy North Sea, then onwards to the Fludyers for a glass of something sparkly. And then I'll raise a glass:
"Wishing you and yours a wonderful Christmas, and may 2015 be a year of wonders. See you at the festival in June!"
Ruth
x
'Humber Boy B', will be published by Legend Press in April 2015. You can follow Ruth on Twitter here.