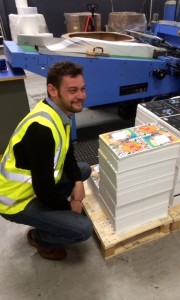 Hiding behind door number 14 of our Book Advent calendar is a surprise for our younger readers…Welcome James Campbell, children's comedian and author of the Boyface books! James will be working closely with us over the coming months to produce an exciting project with local young people for the 2015 festival. I've seen the plans, and believe me it's going to be brilliant! James kindly joins us on the blog to share more about his latest book… 
Hello people of Felixstowe.  It's an exciting time at the moment because of many things.  First of all, my new Boyface book is coming out very soon.  This one is called Boyface and the Uncertain Ponies and it's my favourite one so far.  What's even more exciting than usual though, is that I actually got to see this one being printed.
I spend a lot of time in schools and in every one there is usually someone who asks "how do you make the books?"  So I thought I had better find out.  The printers invited my wife and I so we went last week to see my actual book being bound and glued together.  The machines they use are very similar to the Machine that Boyface uses to monger stripes.  There were conveyor belts and buckets and baskets and hoppers and choppers.  And the whole factory smelled of paper, glue and tattoos.  They gave me the very first book off the press which was a huge honour.  All in all, it was a wonderful day.
 Boyface and the Uncertain Ponies will be released in January. You can find out more about James via his website and follow Boyface, who mongers stripes, on Twitter: @Stripemonger