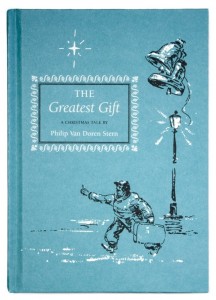 There are just ten days to go until Christmas, and we're starting to feel rather festive here at Festival HQ! For those of you whose cockles remain stubbornly cold, and who need something a little more magical to get them into the spirit of things, I've got just the remedy – a classic Christmas tale that will be familiar to almost all of you, even if you've never heard of it…
Intrigued yet? Read on!
We've all gathered round to watch 'It's a Wonderful Life' at Christmas time, enjoying the cosy glow emanating from the TV, but did you know that the origins of this classic lie in a humble short story, 'The Greatest Gift'? So unremarkable were the beginnings of this tale that its author, Philip Van Doren Stern, was unable to find a publisher for his story, and so chose to print 200 copies of it himself and distribute them as Christmas cards when he first wrote it in 1943.
At just a few pages long, we only have the bare bones of the story as we know it on screen – and yet reading it for the first time, as I recently have, one is struck by the amount of emotion and poignancy that Stern is able to wring out of just a few short pages. Of course, it may well be that my knowledge of the film colours my reading of the story, and I'm sure this does play a part, but nonetheless this is a little tale with a big heart.
 The water looked paralyzingly cold. George wondered how long a man could stay alive in it. The glassy blackness had a strange, hypnotic effect on him. He leaned still farther over the railing… . "I wouldn't do that if I were you," a quiet voice beside him said.
So far, so familiar. But what comes across particularly effectively in the short story format is that George is experiencing a sort of waking nightmare, able to speak to his family and friends but without them having a clue who he is, as he has wished himself out of existence. The fact that it all takes place in such a limited number of pages speeds up the action, and as George starts to panic and rush through his town looking for answers, so you find yourself rushing through as reader, seeking out the comfort of a happy ending. Contemporary readers must have been particularly desperate for such comfort, given that it was produced during a time of war, and so there is a bittersweet feel to the story's enduring message of kindness and family.
Without doubt 'It's a Wonderful Life' will be showing on our screens this Christmas, and I daresay that I'll be watching it again myself. But might I suggest that you also seek out the story that inspired director Frank Capra, for a Christmas treat that's every bit as heartwarming.