We have a treat for you behind #BookAdvent door number 17 as we welcome one of our 2014 festival authors Julia Jones. Julia's 'Map Your Own Adventure' workshop was a real highlight of this year's festival; she had a group of young writers absolutely enthralled! We hope you enjoy Julia's reflections of the past year and a fabulous little review by one of her young readers…
This last week before Christmas is a peculiarly intense time: every day and almost every moment seems to count, yet at the same time we're looking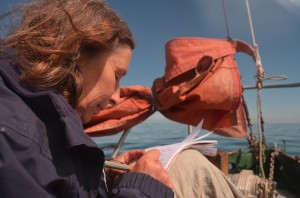 back over the year that's passed, and ahead to the New Year. As I look back over 2014, that weekend in June which I spent at Felixstowe Ferry staying on my boat Peter Duck and attending the Book Festival  is among my happiest memories. It led me to meet the children of Langer Primary Academy, Kingsfleet Primary and Trimley St Mary Primary as well as the exciting invitation to present the summer reading awards at Felixstowe library.
As an author I love it when my books appeal to readers of all ages. It was a great moment when festival director Meg Reid described how she'd been 'gripped' when reading my 'Strong Winds' series story,  The Lion of Sole Bay. Last week the Lion received an unexpected review from teenager Meredith Donnachie, former winner of Schools Mastermind. For me, it was like opening an early Christmas present. This is what she wrote: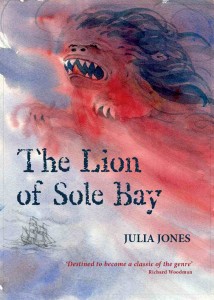 An intricate maze of adventure, friendship and a few shocks, The Lion of Sole Bay is a must read.  Julia Jones's style is comparable with Malorie Blackman's and the plot ensnares three young teenagers from troubled backgrounds, tossing them into a setting haunted by a battle from long-ago.
     Julia's novel consistently surprised me; it was amazing to see how each character evolved.  Almost like a modern Famous Five book, it consists of that thrill of adventure, and there is more than one mystery.  Because of the inclusion of the history of Sole Bay and the rural isolation of Suffolk, it is easy to forget that the novel was written recently.
     This book absorbs the reader into the midst of the plot, and adds a spine-tingling chill to today's generally benign Autumn festivals.  This atmosphere carries on until the very last page; unlikely events cause you to lose your sense of reality until the spell breaks at the close.
Thank you so much Meredith! Later today I'll be driving past the Red Lion pub at Martlesham which provided the inspiration for the story. I'll glance at the ancient figurehead and raise an imaginary glass to you.
Then, after Christmas, I can begin looking forward to the 2015 Festival, when I'll be discussing the audio recording of my first novel, The Salt-Stained Book, with voice actress Anna Bentinck.
By Julia Jones
Julia's books are available to buy now and they make perfect presents for readers young and old. You can follow her on Twitter, like her on Facebook and find out more on her website.