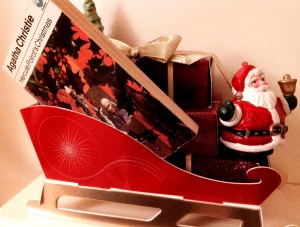 Less than a week to go! Now is definitely the time to kick back with some mulled wine, a mince pie and some suitably festive reading matter. Crime has always been hugely popular at Felixstowe book Festivals (the genre not the activity, thank goodness) so we know you'll love today's pick. From the queen of crime herself, Agatha Christie, we bring to you two yuletide mysteries: Hercule Poirot's Christmas and The Adventure of the Christmas Pudding.
I love that you always know where you are with Christie and her fastidious detective, Hercule Poirot. You can always guarantee a gripping story with a clever twist, all against a backdrop of vintage nostalgia. For those who've bought the turkey, wrapped the presents and said 'aurevoir' to the day job for 2014, delve into the novel Hercule Poirot's Christmas. For those of you, like me, who can't see the wood for the (christmas) trees when it comes to your festive 'to-do' list and don't seem to have much spare time on your hands the short story, The Adventure of the Christmas Pudding, is for you.
To whet your appetite have a little read of Christie's own introduction to The Adventure of the Christmas Pudding:
'The Adventure of the Christmas Pudding is an indulgence of my own, since it recalls to me, very pleasurably, the Christmases of my youth.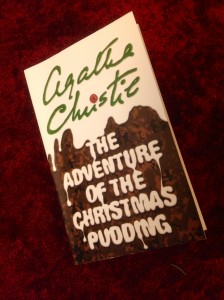 After my father's death, my mother and I always spent Christmas with my brother-in-law's family in the north of England – and what superb Christmases they were for a child to remember! Abney Hall had everything! The garden boasted a waterfall, a stream, and a tunnel under the drive! The Christmas was of gargantuan proportions. I was a skinny child, appearing delicate, but actually of robust health and perpetually hungry! The boys of the family and I used to vie with each other as to who could eat most on Christmas Day. Oyster soup and Turbot went down without undue zest, but then came Roast Turkey, Boiled Turkey and an enormous Sirloin of Beef. The boys and I had two helpings of all three! We then had Plum Pudding, Mince-pies, Trifle and every kind of dessert. We neither felt, nor were, sick! How lovely to be eleven years old and greedy! What a day of delight from 'Stockings' in bed in the morning, church and all the Christmas hymns, Christmas dinner, Presents, and the final lighting of the Christmas Tree!'
(From Agatha Christie's foreword for The Adventure of the Christmas Pudding)
Now, that has made me hungry! Have fun tucking into these bookish delights and stay tuned for Book Advent door 20. Today's advent pick actually provides a clue for tomorrow when we will be announcing not one, but two authors joining us in June. Time to employ those leeetle grey cells and deduce who it might be…
Literary love,
Hannah