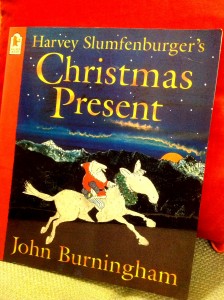 The books you loved as a child have a tendency to stay with you don't they? This season with all its nostalgia and tradition, always sends me to a tucked-away corner of my bookshelves which houses the Christmassy reads of my childhood. Today's choice comes from there. Harvey Slumfenburger's Christmas Present is a beautifully illustrated picture book by John Burningham the author of Borka and Mr Gumpy's Outing.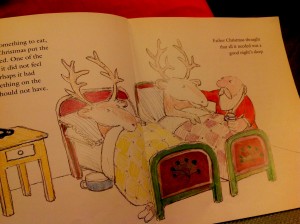 An exhausted Father Christmas returns from a busy Christmas Eve delivering presents. He puts his poorly reindeer (they might well have nibbled on something they shouldn't have) to bed and heads straight to his own bed for some well-earned rest. Only, when he gets there he discovers a sack with one present still in inside. The present is for a little boy called Harvey Slumfenburger. Harvey lives in a hut at the top of Roly Poly Mountain and Father Christmas knows that his parents are too poor to buy their son any presents. With that thought in mind, Father Christmas sets off on an epic journey, without his reindeer, to deliver the present…
The story is simple but very sweet. It has the little phrases of repetition that young children adore and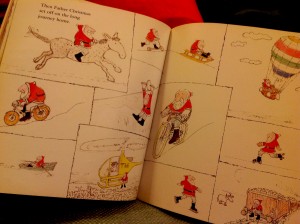 Burningham's illustrations are bursting full of character. This is a Christmas book that may have passed a lot of you by, but in my opinion it deserves to be a festive classic!
Join us again tomorrow for our penultimate #BookAdvent pick!
Hannah x