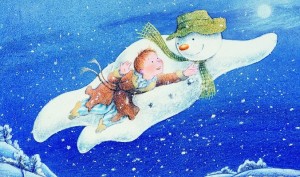 It's two days before Christmas, and hopefully most of you are starting to wind down at work and look forward to the festivities ahead. At time of writing I'm afraid there's no snow on the ground, but that doesn't mean that we can't absorb ourselves in a favourite wintry tale…Raymond Briggs' The Snowman.
This children's classic may be entirely without words, but Briggs' drawings tell a very powerful story of friendship and growing up. The little boy in the story experiences a rollercoaster of emotions on the day depicted – from disbelief at his first sighting of the giant snowman come to life, to excitement and exhileration as they fly through the air and join other snowmen at a party, to sorrow when he discovers the puddle of hat and scarf that used to be his friend, in the morning sun.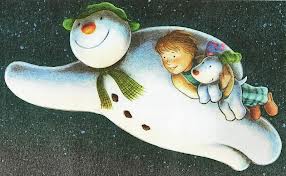 The faithful animated film adaptation of the story helped to cement it as a true national treasure, and despite it being over thirty years old (with the book itself thirty-six years old!), people return to re-watch and re-read year after year. There is something so beautifully simple about it, yet also poignant and magical. The public's enduring love for the story was rewarded in 2012 when, after years of resisting the creation of a sequel, Raymond Briggs gave his permission for a new film, The Snowman and the Snowdog, to be produced. The little boy in this story is a different one, but the charm is just as overwhelming as ever!
So, if you're yearning for a White Christmas, there's no need to be disheartened by our ever-fickle weather. Instead immerse yourself in this timeless tale, whether you're sharing it with your own kids, or simply feeling young at heart.
I leave our last day of 'Book Advent' duties in Hannah's ever-capable hands tomorrow, so I'll take this opportunity to wish you all a Happy Christmas!
Rosie