Dear Book Lovers,
Christmas is coming and we're excited here at festival HQ! So much so, that our Yuletide enthusiasm has overspilled into a 24-day long treat for you all. For every day of advent we will be featuring a book or author on here and the rest of our social media. We'll be bringing you some of our picks from the 2014 festival, a selection of our favourite festive reads (look out for some surprises), a few great books of 2014 and we will be exclusively revealing some of the authors who will be joining us next June. We've also got a brilliant selection of bloggers ready to review and reminisce us all the way to Christmas Eve.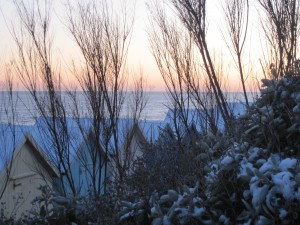 The shops may have decked their halls in September but most of us will have only just started to turn our minds to presents, turkey and carols. Perhaps the thought of all those 'perfect' presents yet to be bought sends you reaching for the mulled wine. Or maybe you have a neat mountain of gifts wrapped and ready to go. I count myself in the former camp; those of you in the latter, how on earth do you do it? Regardless of which glove fits, our book advent is for both the wonderfully organised and 'by the seat of your pants' organised alike.
As we count down through December, each day will bring a little piece of inspiration for your Christmas shopping. We heartily recommend that you support your local bookshop this season. Not only will you find wonderful personal service, but you'll also discover little bookish surprises that internet shopping just doesn't provide. Why not have a little trip to Felixstowe where Stillwater Books, Treasure Chest Books, Poor Richard's Books and The Red Cross Bookshop will all welcome you with open arms (and that delicious book smell)!
Our Book Advent will also provide plenty of inspiration for cosy festive nights curled up with something good to read and stollen/mince pie/family-sized box of Quality Street (I would say delete as appropriate but, let's face it, 'tis the season to indulge). Whether it be something to get you in the festive mood or just a juicy new story to get your teeth into, we'll make sure your 'to read' pile keeps on growing. Our selection has an eclectic mix from crime to romance, literary fiction to poetry, and of course we haven't forgotten our younger readers. Get inspired and get excited too, as we offer tantalising glimpses of what the festival holds for next year – we can't wait!
Lots of literary love from your Friendly Communications Team!
Hannah and Rosie
P.S Don't forget to join in the #BookAdvent discussions on Twitter and Facebook!