Today is National Libraries Day and we thought there was no better way to celebrate than by inviting Debra Rowe from Felixstowe Library for a guest blog post…
"The library does more than simply loan books. It underpins every community. It is not just a place for self-improvement, but the supplier of an infrastructure for life and learning, from babies to old age, offering support, help, education, and encouraging a love of reading."
William Sieghart, Independent Library Report, December 2014
Do we really need National Libraries Day?  I mean, libraries – they're just there aren't they, like schools, pens, socks?  We've all heard of them and we really don't need a special day to focus on them because they're so deeply ingrained in our society.  But then who would have expected more than 200 libraries to close last year? So maybe a bit of championing is required.  Not that the ugly closure monster is looming over libraries in Suffolk. Here I am delighted to tell you we have a vibrant and forward thinking service.  Since August 2012 when Suffolk Libraries became an industrial and provident society with charitable status, I for one have never looked back.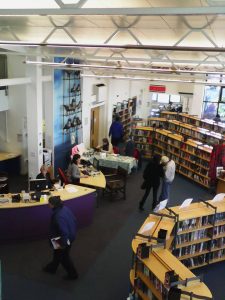 There have been numerous changes as we continue to reassess how we can be more relevant to our local communities.  Felixstowe is no different in this.  Our new Facebook page tells you we are a busy library in the heart of the community – well placed then to welcome yet more services under our roof.  If you've visited recently you'll have noticed the curvy new desk we are soon to share with staff from Suffolk Coastal District Council who will provide an information service, embracing tourism.  Another meeting room has been constructed, providing a private discussion space for services such as housing and benefits advice. We are soon to acquire new public computers and we've had wifi for some time now so digitally speaking we're holding our own.
And what of the humble books you may ask? Yes, I am aware I've got this far without mentioning them! Well the truth is they are still very much in evidence even though e-book lending (and we do that too) is certainly on the increase. We strive to keep our stock fresh and inviting; large quantities of new books arrive here every week. Recently Suffolk Libraries joined forces with Cambridgeshire Libraries and can now offer you access to their catalogue too. As you can imagine, this has widened the choice considerably – something which might be of interest to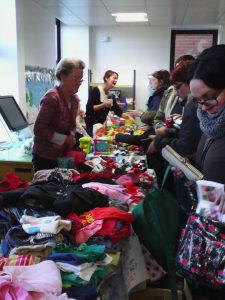 the many book groups who regularly trawl our catalogue for multiple copies.
We are very keen to encourage youngsters into the library so we've been revamping the children's area. A recent fundraiser, borrowing the film Frozen for its theme and supported by a wonderful team of volunteers, raised a hefty £520 and this was topped up by several hundred more from local councillors and Felixstowe Rotary Club. This has enabled us to buy new comfy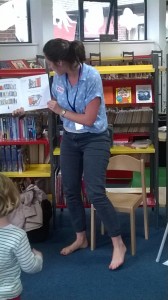 seating and cheery, child-friendly book cases.  And more is to follow. Our new storage units are portable which means we can have a flexible space.  That's a great advantage when we have special events such as those we will be hosting for Felixstowe Book Festival. We are helping to organise what promises to be a varied and exciting programme to inspire youngsters to get hooked on books.
I can't end without mentioning our own in-house literature festival  (and make no apology for promoting it since we are not in competition.  The more bookish events, the better!)  Brand new to the county, Suffolk Bookfest will run throughout March. Felixstowe Library is fortunate to be hosting two events.  On 6th March food writer and Daily Mail columnist Anne Shooter will give a cookery demonstration and talk about her new cook book Sesame and Spice.  Then on 21st March writer and illustrator Gillian McClure will run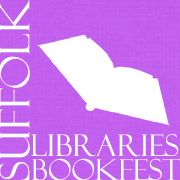 an interactive workshop, sharing her expertise on the creation of picture books.  Further information and tickets for these and many other events across Suffolk libraries are available on the website.
Browsing for a book, printing out a boarding pass, singing nursery rhymes with a baby, meeting a friend in the café…..there's a lot happening in the library these days.  If you aren't a member or haven't visited for a while you might be very pleasantly surprised. So, as the National Libraries Day logo says:  Use it…Love it….Join it.
By Debra Rowe
Library Assistant, Felixstowe Library
Volunteers Coordinator, Felixstowe Book Festival
www.facebook.com/FelixstoweLibrary