As lovers of the written word, we're always looking for new ways to connect with like-minded people, and we believe that Felixstowe and Suffolk have so much to offer in terms of literary events, wonderful bookshops and stimulating writers' and readers' groups. So what better way to find out more about what's going on around us than welcoming some new guest writers to our blog?! 
For our first guest post of the new year, we're delighted to welcome Helen Bott, of Felixstowe's own Treasure Chest Books – a thriving second-hand bookshop in the heart of the town. Here, Helen gives us a sneak peek at the fickle world of bookselling trends…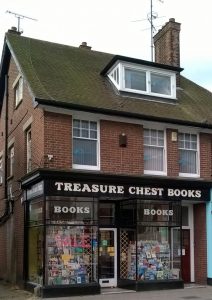 On Breakfast TV this morning, an expert discussing the new Harper Lee novel said that in the USA the most enduringly popular book is To Kill a Mockingbird, and in the UK it is 1984. I think most booksellers would agree that those are two books that are sought after year in, year out, along with old favourites like Enid Blyton, Delia Smith and (if you are a rail buff!) anything about the Great Western. But one of the fun bits of working in a bookshop is spotting trends in books and arranging window displays to match.
TV and films have a real impact. At the moment we're seeing a Wolf Hall effect and are selling books on the Tudors, Cromwell, Wolsey, even art books about Holbein, plus other novels by Hilary Mantel. We've also had a lot of interest in Vera Brittain books and anything on Stephen Hawking. Last year it was Turner, now we're waiting for a run on Thomas Hardy when the new Far from the Madding Crowd  film comes out. If only the BBC would remake A Passage to India – at last count we had 28 copies!
The commemoration of the First World War led to a real interest in books on the subject; maybe this year's anniversary of the Battle of Britain will have a similar effect. This week we've been asked for books on Churchill, so perhaps next week it will be Magna Carta? And poignantly, the death of an author sends readers back to his or her books: recently we have sold copies of PD James' novels and autobiography. When Bobby Robson died we sold every book we had about him; although when Mrs Thatcher died we only sold a few… It certainly makes life in a bookshop interesting!
If you're part of a local writing group, book club or bookshop and would like to spread the word, we'd love to hear from you! Get in touch at info@felixstowebookfestival.co.uk.