We are thrilled to announce that our 2015 Festival Read, Ruth Dugdall's Humber Boy B, will be launched here in Felixstowe on Saturday April 11th, at Felixstowe Library! Ruth will be coming over especially from her current home in Luxembourg to be with us and read from the book. We hope you'll be able to join us to celebrate this fantastic new novel and get into the festival spirit!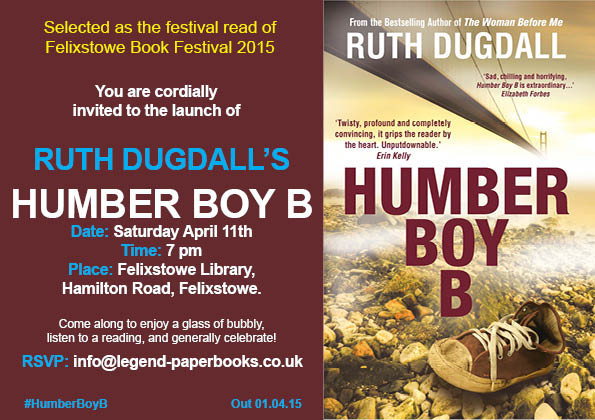 Read on for Ruth's own perspective on this exciting event, and the long journey she's made in the process of writing this book (both emotional and physical!)…
In seventeen days I will hustle the kids into the car, drive through the pot-holed roads of Belgium, touch lightly into France, and speed by train through the tunnel. I am heading home. Because on April 11th at Felixstowe Library I shall be launching my next novel, Humber Boy B.
It's been four years since my last book launch. A long gap, but I was working on a novel: a novel that wasn't Humber Boy B. A year ago, when it was finally finished, my agent submitted it to my publisher. They rejected it. They wanted, as they had two years before, Humber Boy B.
At that stage Humber Boy B was an idea, a few early chapters. It was in no way realised or complete. I thought my publishers were crazy, rejecting a completed novel and making an offer on an idea.
But then I faced the facts: Humber Boy B kept bubbling up, and the central idea of a child who kills another child was something I knew I would one day write. One day. I'd been pushing the novel away since it first came to me in January 2000, when I started working on a prison unit designed for children guilty of the most serious of crimes.
I signed the contract and started to write. In a fever, because my deadline was short, and also because that's how the words tumbled out. I discovered that I already knew my protagonist Ben, and I knew what he had done. I also knew that he would come to Suffolk seeking a new life, savouring freedom, but that the shadow of the past would hang over him in the form of the bridge where he threw another boy to his death.
The Humber Bridge, such an iconic landmark, is also a scene from my own childhood, and I needed to go back to Hull to write Ben's childhood scenes. The redundant trawlers, the massive aquarium, the gravelly accent, all found their way into the book. As did Suffolk: the finery of Melton, the rush of Ipswich, the bizarre contrasts of the Bourne Hill ski-slope in summer.
Writing Humber Boy B, while living in another country, was like taking a long sip of home.
And so I'm returning. To Felixstowe. To a storyline I tried to abandon.
Yesterday my own copy of the book arrived. I've looked at it, admired the cover, felt humbled by the praise quotes. But I haven't opened it yet. Superstitiously, I want to wait until the launch day. I want to feel that, together with everyone else who comes along that night, I will be meeting Ben for the first time.
I'm looking forward to it.
 To find out more about Ruth and her writing, visit her official website.
Tickets aren't required for this event but Felixstowe Library would like an idea of numbers so please let them know if you intend to come via one of these methods.