We're delighted to welcome Helen Bott, of Felixstowe's Treasure Chest Books, back to the blog! Her subject today is the impact of the Internet on bookselling, and how it can be both a blessing and a curse for independent bookshops…
Seeing the festival tickets go on sale online makes me think about the impact the Internet has had on the second hand book trade. It's something our customers mention to us a lot, and there's no doubt that things have changed considerably since we started selling second hand books 15 years ago. Back then there were still lots of shops and very few Internet dealers; now you can buy virtually any book you want online (often for as little as 1p) and the number of shops has drastically declined.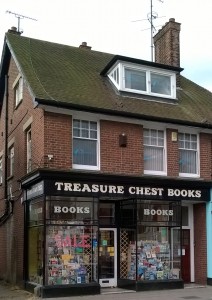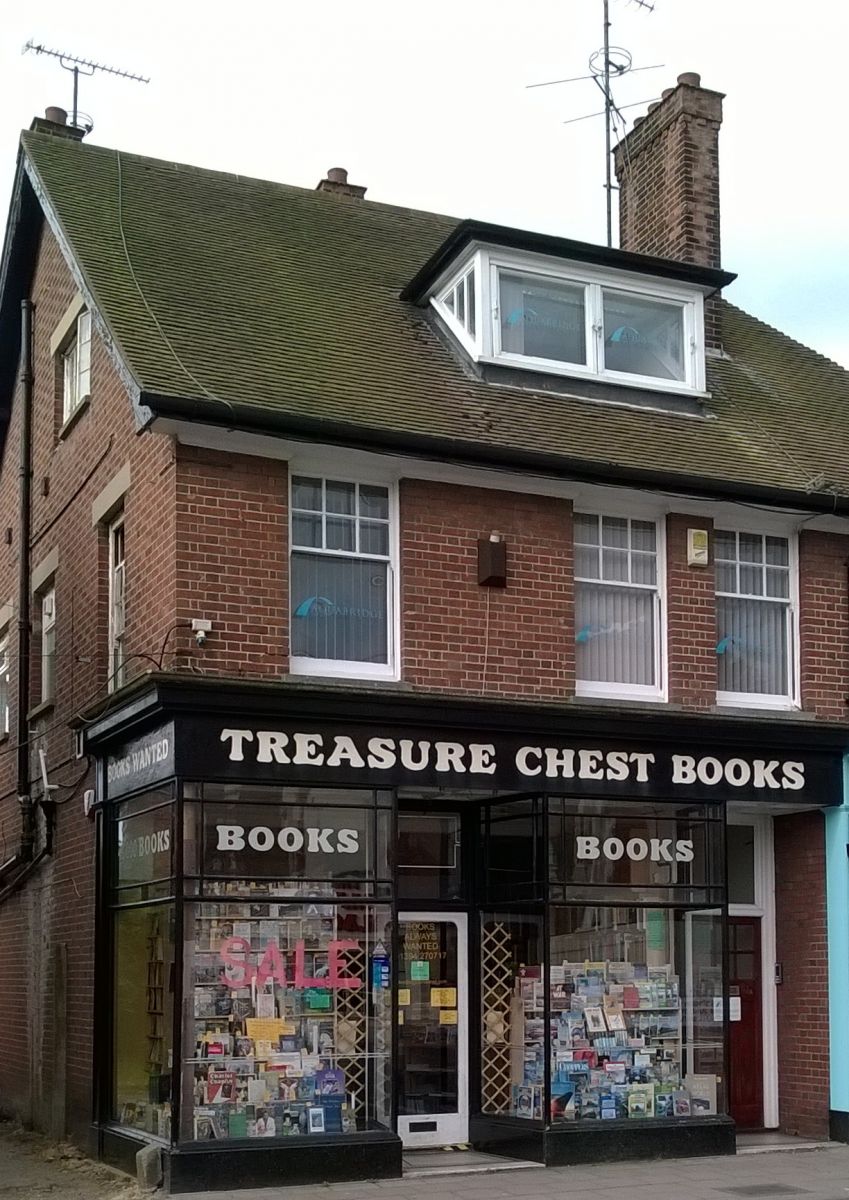 From a bookseller's point of view, the Internet is a bonus as it opens up a much wider market. We have 10,000 books listed on our own website and 6,000 on Amazon, and we also sell on other websites. Every day I take at least 2 sacks of mail to the post office – recent orders have been from Australia, Chile and most of Europe. The Internet allows us to sell books that might not sell here in Suffolk: for example, today's orders include books on a hospital railway in Lancashire, carp fishing, magic mushrooms and Rudolph Hess. It brings people to the shop, as it has a wider reach than the old J. R. Hartley Yellow Pages scenario and we also source a lot of our stock this way: recently we have trundled off in our van to buy books in Co Durham, London and Birmingham, as well as all over East Anglia.
Of course, there is a downside. There are dealers on the Internet who will automatically price their book at 1p less than yours, while others put ridiculous prices on a book because nobody else is listing it (we once saw a dealer in the USA asking 1 billion dollars for a book). Some dealers take no account of the condition of the book: we have seen books listed as 'not necessarily with all pages' and some dealers turn to 'book napping' – they list other people's books at a higher price, then if they get a buyer they then order your book and sell it on at the higher price they are advertising. It's not strictly illegal, but it's certainly frustrating!
So why do we still have a bookshop instead of a warehouse and a website? There are practical reasons: having a shop gives us storage space, and it also brings in books for sale. We can sell a lot of books, especially fiction, children's, cookery, travel etc. cheaper as a shop customer has no postage to pay. But more importantly, we love having a shop and meeting customers, and we believe that book lovers want to browse, pick up books they've not seen before and chat about their purchases. You can't do that on the Internet, so let's hope there's still a place for bookshops for years to come.