We continue our series of speaker encounters with sports writer and former Fleet Street journalist, Brian Scovell. Brian will be exploring the role and the motivations of the ghostwriter in the world of sporting biography – a fascinating topic, we're sure you'll agree! – and we thought we'd find out a little more about him ahead of the festival…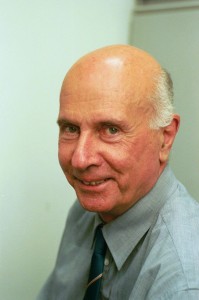 What can we expect from your event?
A lot of laughs!
That sounds a pretty good draw to us!
What are you looking forward to at the festival?
Plenty of sales, hopefully!
Well, our festival bookstall will be well-stocked, so our guests will certainly be able to take your work home with them!
Complete this sentence: I do like to be beside the seaside because…
seeing the sea has a calming effect and you can think of new ideas to write about. I was born half a mile from Woody Bay in the Isle of Wight and still can't swim.

In that case, we hope you never get stranded on a desert island! But if you were to, what would be the three books that kept you going?
War Diaries 1939-1945 by Field Marshal Lord Alanbrooke
Farewell the Trumpets by James (now Jane) Morris
and Pageant of Cricket by David Frith.
Finally, what is the best aspect of your job as a writer?
Opening the parcel to see your new book looking like a million dollars without any mistakes.
You can catch Brian on Sunday the 28th of June, 1-2pm, in His Lordship's Library at the Orwell Hotel. Find out more about his event here.  We'll see you soon, Brian!