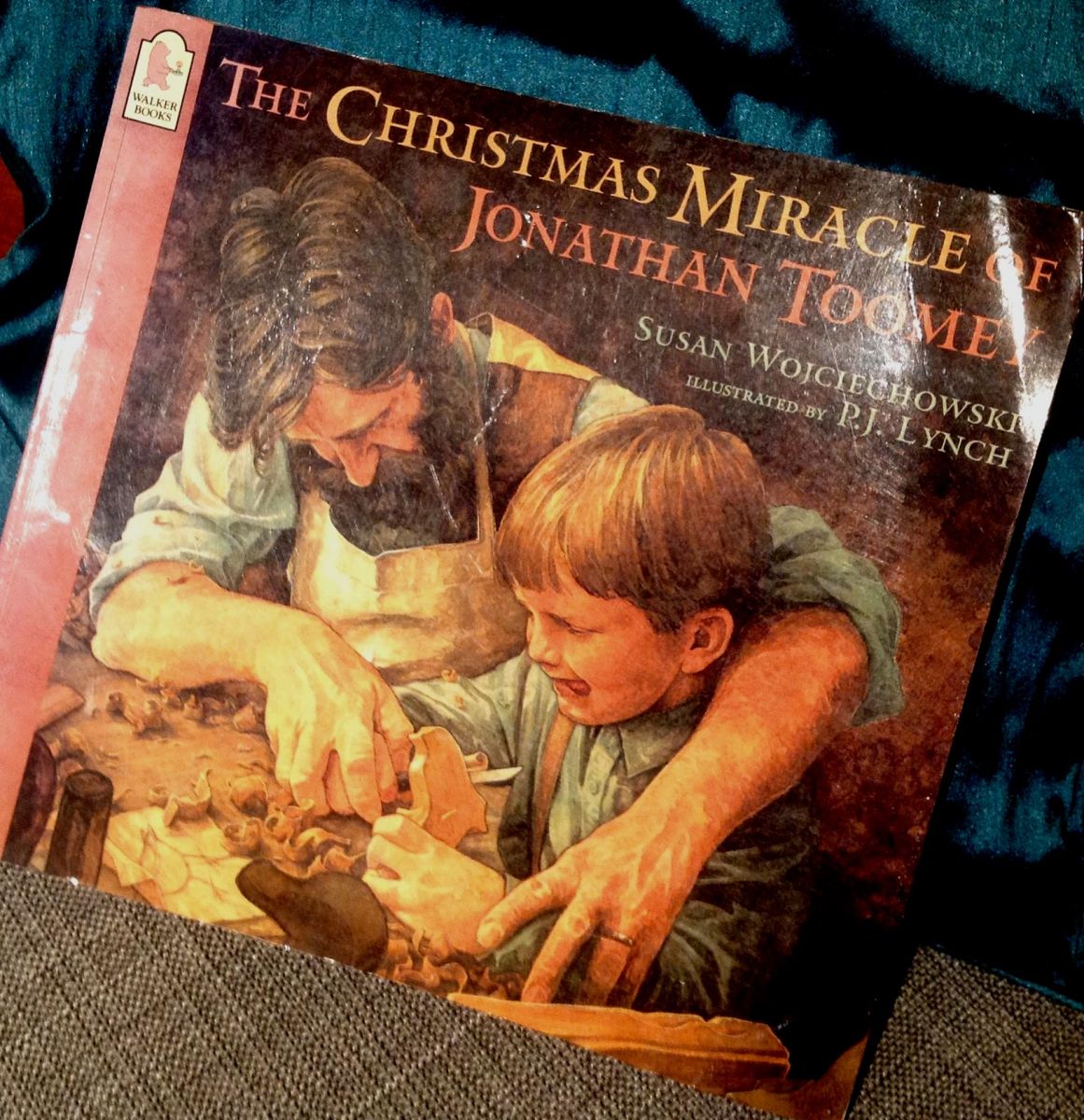 To commence #BookAdvent 2015 we have a lovely festive recommendation for you. Written by Susan Wojciechowski and illustrated by P.J Lynch, children's picture book The Christmas Miracle of Jonathan Toomey was first published in 1995. Walker Books have released a special edition to celebrate its twentieth birthday this year, but I still have my own childhood copy. I wouldn't want to replace it mainly because it has this delicious smell pertinent only to the picture books of my youth. When I breathe in the scent I'm right back to being a little girl desperately trying to fall asleep on Christmas Eve.
For a good few years this book has sat forgotten – its thin spine was hidden on my jam-packed book shelf. It was with trepidation that I reopened it; would it be as magical as when I read it as a child? I needn't have worried because, if anything, I loved it more than I did when younger and I'm now determined that it shall have a regular outing from the aforementioned, jam-packed shelf every December.
The story is of woodcarver Jonathan Toomey, the village's resident 'Mr Gloomy'. He goes about his life 'mumbling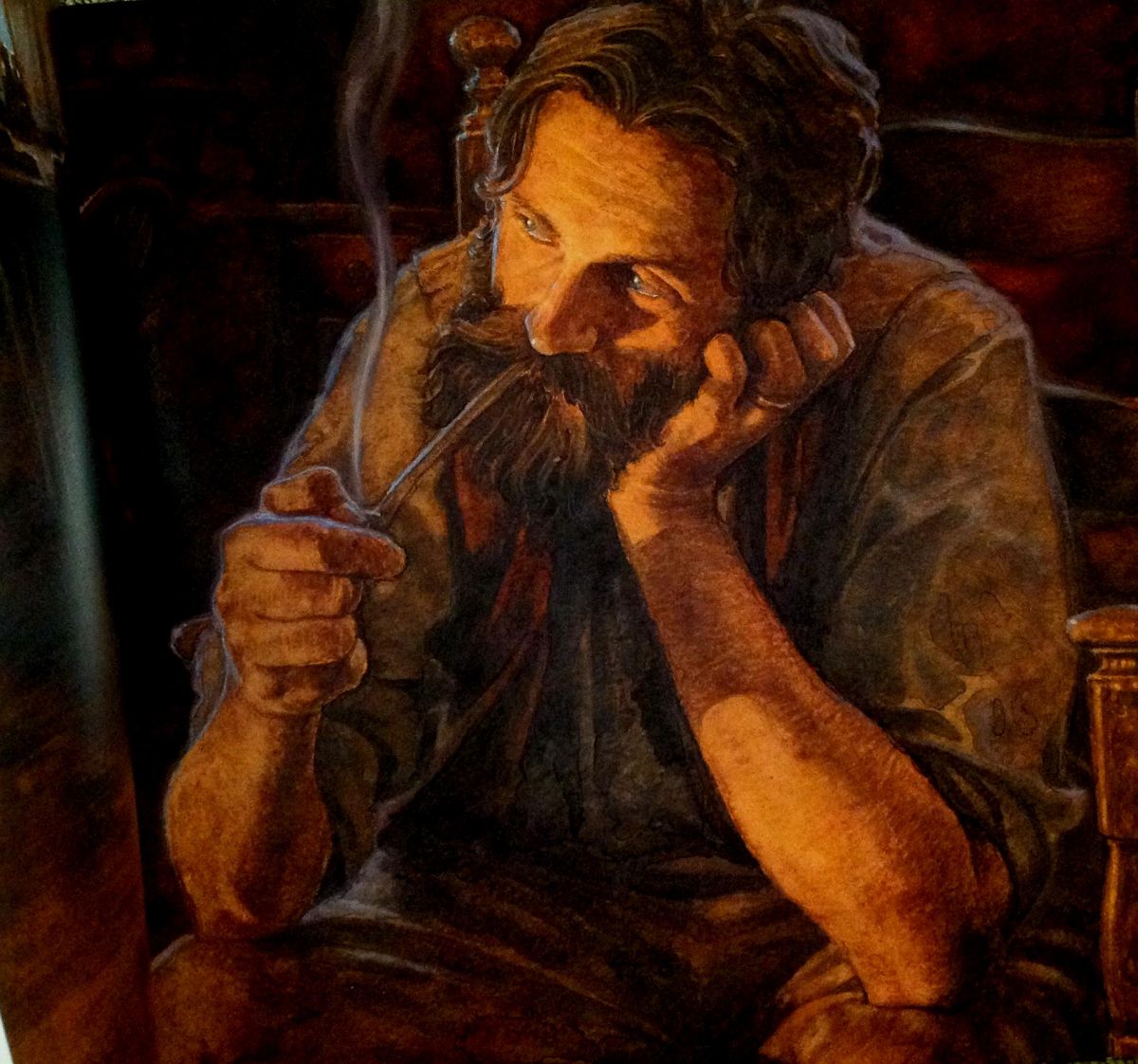 and grumbling, muttering and sputtering, grumping and griping.' No one knows that there is heartbreak behind this gloominess – several years previously his wife and baby died. With a beautifully poignant lightness of touch Wojciechowski says that 'Jonathan Toomey had packed up his belongings into a wagon and travelled till his tears stopped.'
Then one day two newcomers to the village, widow McDowell and her son Thomas, knock on his door. They want Jonathan to carve them a replacement nativity set as their own precious one was lost when they moved house. Jonathan grudgingly accepts the commission even though he proclaims that 'Christmas is pish-posh'. Little does he realise that Thomas will make a habit of visiting to watch him at work, insisting that each nativity character looks just right. And little does he realise that his icy heart will begin to thaw…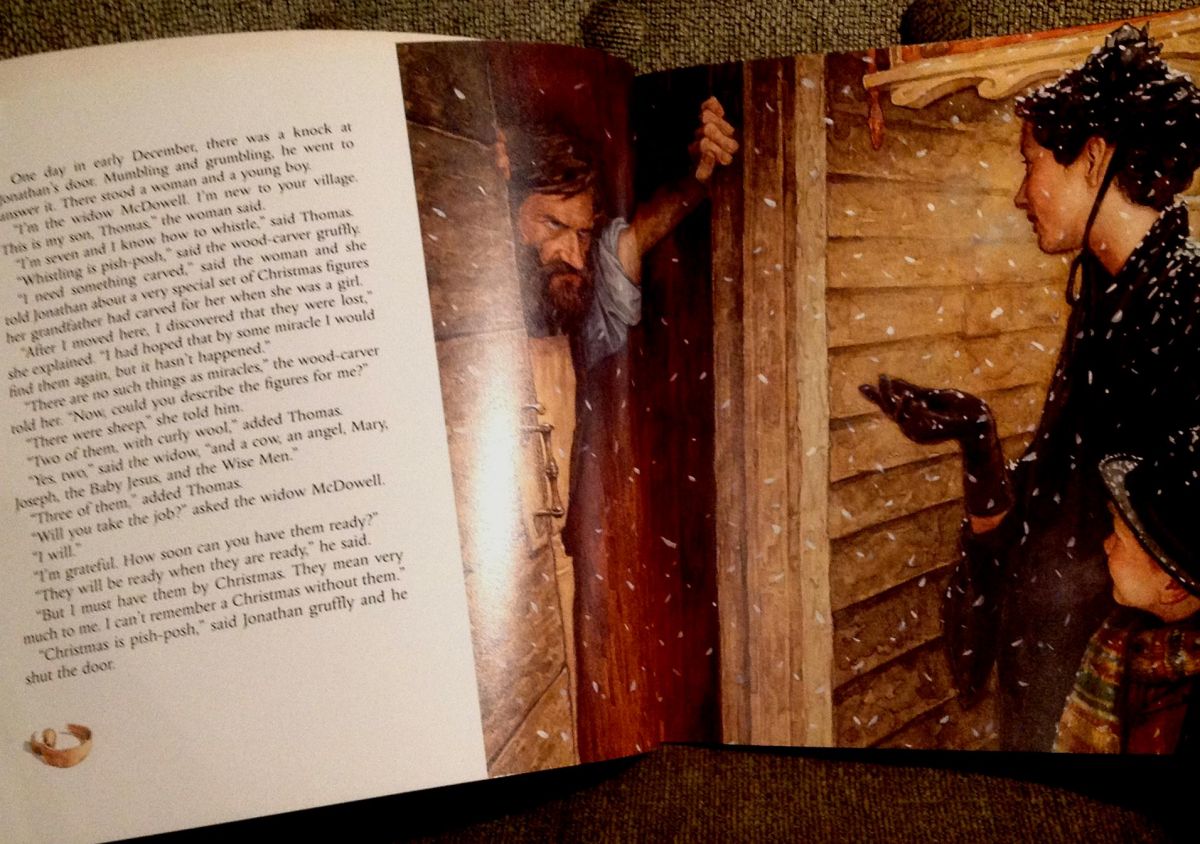 For me, this is one of the great examples of how illustrations can play an integral part in how you relate to a book. When I re-read my childhood copy it was the pictures that took me right back to being a little girl and reading this in the run up to Christmas. The pictures aren't quirky or stylised in the way that many of today's (rather wonderful) contemporary picture books are illustrated. These are traditional, realistic images. They are, quite simply, beautiful. These are the kind of pictures I would lose myself in. The characters were just as they were described in the story; their eyes giving away so much emotion.
The Christmas Miracle of Jonathan Toomey definitely deserves to be one of those classics enjoyed by all ages year after year. A quick google tells me that there was actually a film version made not too many years ago. I'm intrigued to see what the film will be like, but I know that, even if it's beautifully done, this is one book that I will always go back to. For the beautiful pictures, heart-warming story and of course that smell…
Bookish best,

Hannah