What could be better at Christmas than a selection of short stories by a well loved author? It's the literary equivalent of sitting in front of a log fire, wrapped up in a warm blanket. Louisa May Alcott is known to most of us as the author of Little Women, a classic and all time favourite of mine. How then did I not know she had written a collection of Christmas stories?
This is definitely a gentle book. A Merry Christmas and Other Christmas Stories begins with the little women themselves preparing for Christmas Day. As they open their gifts, their mother returns home from visiting neighbours. She tells them about a young woman with a newborn baby who are cold and hungry and need their help. Charity i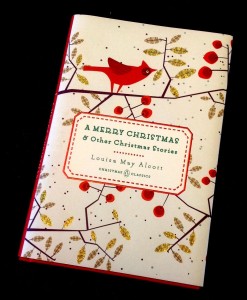 s a big theme of the collection: from orphan Kate who must move to America after the death of her grandmother in England and choose which of her estranged relatives to live with, to Mrs Podgers and Mr 'Rusalem who throw a Christmas party for the street children who live near them. The tales are all set around Christmas time and manage to evoke the magic of childhood Christmases.
My favourite story was that of Grace and Dolly, two young girls who live with their widowed mother and younger siblings. They have worked hard to put together a few gifts for their family, earning money by stitching shirts. But they can't help but be upset on Christmas Eve when it appears that they will not have a proper Christmas. Their tears are heard by those who live in the same boarding house. They team up to surprise the girls and in doing so, learn a few lessons themselves.
The stories are easy to read, the characters are sweet. There is no real threat and the writing is slightly dated at times, but it is a lovely collection to read at this time of year. It encompasses all the aspects we most associate with Christmas: family, friends, goodwill and charity. It is guaranteed to leave you with a warm feeling inside!
by Kelly Turner