Today, Book Advent opens the door to a story by well-loved children's author Michael Morpurgo, which reminds us of the true humble meaning of Christmas. Whilst it is very easy to get swept away in the excitement of the festive season, the gifts, the food and the general merriment, it is also very easy to forget that Christmas is a time to be very thankful for the simpler aspects of life, love and health. Sometimes we need a little nudge to remind us. To me, this comes in the form of 'The Best of Times', beautifully written by Michael Morpurgo, and wonderfully illustrated by Emma Chichester Clark.
The story tells the tale of Prince Frederico and his quest to make his beautiful but sickly wife Serafina well again, in both mind and body. Despite the gifts and luxuries he lavishes upon her, she continues to wilt and fade, and eventually begins to waste away, casting a pall of grief and misery over both the Prince and his kingdom. At Christmas, when the story reaches its most desperate measures, the Prince rides away into the snowy night, determined to escape his sorrow for a while. A group of travellers he encounters along the way comfort him in his grief, and provide a solution to the Prince and Princess's problems. They show the healing qualities of the simple aspects of life, including love, friendship and laughter, as well as a rather boisterous puppet Goose, as the story concludes with a moving festive message, thanks to the telling of one of the simplest, yet one of the greatest, stories of all, that of the birth of a baby .
As with Michael Morpurgo's other Christmas stories, including 'On Angel Wings' and 'The best Christmas present in the world' amongst others, 'The Best of Times' fills the festive season with a little more love and a little less greed, and encourages us to appreciate being lucky enough to be both loved and in good health.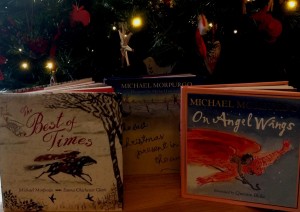 I encourage anyone who is weary of Christmas shopping and pre-emptive post-Christmas sales to secret yourself away into some corner of the house with a cup of tea and this book, and I guarantee that your faith in Christmas will be restored.
By Imogen Tink