This week we welcome to the blog the one and only Mr Pushkin. Mr Pushkin loves living by the sea, good books and cosy log fires. He also happens to be the Festival Cat. This is a title earned by his attendance at every festival planning meeting, his determination to be involved (shown through walking on the table and jumping on laps) and his ability to bring calm to our festival director, Meg, throughout particularly challenging organisational tasks. Our intern, Hannah, interviews him…
Hannah: Hello Mr Pushkin! Welcome to the festival blog…
Mr Pushkin: Well hello dear festival goers, finally my talents have been recognised and I have been given my own blog post! I would say I feel honoured, but if truth be told, it is less than I deserve seeing as I am the brains behind the operations of this festival…
H: Ahem, Mr Pushkin, the brains behind the festival? Really?
Mr P: Why of course! How else do you think we have such a fine array of authors coming to the festival? It takes superb feline cunning to achieve a line-up such as ours. You really thought it was Meg answering the emails you sent? Pfft, how foolish you are. Festival cat! More like Festival chief.
H: Oh, right, okay. But surely you need thumbs to type? Anyway, moving on. Since we're on the topic of our wonderful line-up for this year's festival I wonder if you could tell our readers what you are most looking forward to?
Mr P: Oh dear me, where to start? I am a huge fan of Nicola Upson, that's her book with me in the photo. It was brilliant, I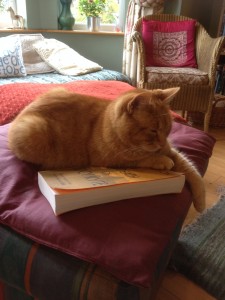 can't wait to meet her. I'm also looking forward to the return of the vintage tea party. I overheard at one of our planning meetings that it's suffragette themed this year. I'm going to specify my dietary requirements now: tuna sandwiches and a saucer of milk on some fine china please.
H: I'm sure we can try and sort that for you Mr P but I'm afraid you won't be allowed to cling on to peoples' skirts and trousers until they let you sit on your lap. It gets annoying.
Mr P: No it doesn't. It's endearing. Everyone loves a cat in their lap to cuddle.
H: Dog-lovers don't. But anyway back to the festival. Did you go to any of the events last year? 
Mr P: Of course I did. I loved waltzing around The Orwell Hotel, I'm so glad we're back there this year. Did you know 'His Lordship's Library', where the bedtime story event was held, was named after me?
H: No, I can't say I did.
Mr P: Really? How odd, I thought it was common knowledge. But yes, I loved the splendour of the Orwell Hotel. I also trotted along to Felixstowe Library for some writing workshops. I like the staff there, they always make a fuss of me. I'm going to enter the short story competition this year. I think I might enter one of my instalments of 'The Catterbury Tails' if one fits with the theme. I even made it all the way down to Landguard Fort last year for the fringe event. It was super fun and there's loads of battlements for cats to climb on there. I'm looking forward to the World War One themed event going on there this year, I'm going to bring lots of my feline friends along to that.
H: Excellent to hear Mr P. We're going to have to end it there I'm afraid. Is there anything else you'd like to say before you go?
Mr P: Lovely to finally speak to you my adoring fans. I will be back soon and in the meantime I shall be putting the finishing touches to a knock-out festival.