This week we have a rather special guest blog post from Peppy Barlow, events co-ordinator at Landguard Fort. She's here to tell us all about 'Holding the Fort', the exciting fringe event which will take place at the fort on the first day of the festival, and which will take as its inspiration the centenary of World War One.
We've got another wonderful day planned at Landguard Fort for this year's festival. With such a fabulous venue to work with and World War One as a general theme, we are aiming to recreate something of the atmosphere of the early 20th century for all to enjoy.
MUSIC
On the musical front we have the Salvation Army Band, two big choirs (the Felixstowe Community choir and the Rabble Chorus), a Music Hall group, who will sing all the traditional songs of the era, and a number of individual musicians creating echoes of the time. We also have Kolate, a new age jazz group who will inhabit their own corner of the fort. We are hoping to bring everyone together for a huge singsong at the afternoon – with song sheets provided. So start brushing up on your WWI tunes and any modern peace songs you may think relevant, to remind us that wars are still being fought today.
HISTORY
Local primary schools are bringing histories of their area and local historian David Tolliday will be giving talks on all aspects of life in Felixstowe during the period. David has a wealth of wonderful details to share, such as the fact that while the beach was cordoned off with barbed wire as protection against invasion, the local bathers insisted that there were six foot gaps left for them to take their daily swim!
WALL OF MEMORIES
There will be a wall where people can pin up family memories and copies of photographs. WWI now seems a very distant event, but it is surprising how many people still have stories to be told. Even a scrap of something passed down through the years opens a window onto someone's life: a friend once told me how his grandfather walked from Blythborough to Ipswich to sign up, and I could imagine him making the journey that would change his whole life. What was he thinking? What was he leaving behind? Would he ever come back?
So please bring anything that is still part of your family story. Memories can also be written down or illustrated on the day. We hope to collect them after the event and make a book or display in the library.
We will also have a number of special events for children, including…
A PUPPET SHOW
Let me introduce you to 'WILD PETER' – a story about a wild boy who is befriended by a big white dog – which features life-sized puppets.  This is a premier production by Alexander Killick – a professional puppet maker – who will take over one of the rooms in the fort to enthral us with his creations.  Children and adults alike are sure to fall in love with the dog.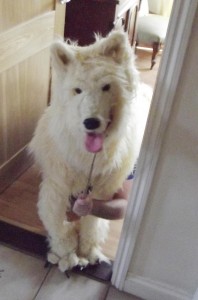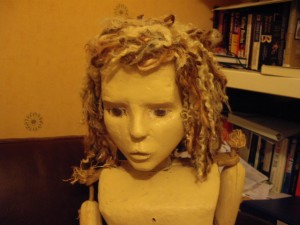 READINGS, DRAMA AND POETRY
I am currently putting together an exciting programme of poetry readings and drama. More on this to come soon!
'Holding the Fort' will take place on the 28th of June at Landguard Fort, from 11am to 5pm. The event is free but normal entrance fees to the fort will apply.
Visit the official website for Landguard Fort at www.landguard.com.
You can also follow the fort on Twitter! @LandguardFort