This week Storyteller, Emily Rowe, reveals the childhood inspiration behind her children's event, Storybox…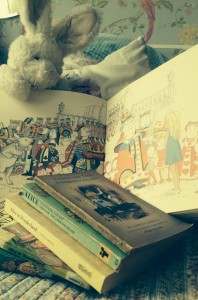 Without a doubt it is the stories of my childhood that first inspired me to run storytelling sessions for the the younger generation. A good place to begin is with Lewis Carroll's Alice in Wonderland. This was certainly the first book I read that I couldn't put down. I spent hours poring over this fantastical, topsy-turvy world in my wonderful illustrated edition by Helen Oxenbury. The voice of my Mum pronouncing "Offffff with his head!" as the Queen of Hearts, whilst I soaked up every word, still rings clear in my memory.
Another childhood favourite was Dogger by Shirley Hughes. I have read this picture book more than any other and with good reason: it is a fantastic read with a simple yet relatable storyline. I have never met a child or an adult who cannot remember the panic and distress of losing a favourite toy, as does the character of Dave in this adorable story.
On reflection though, I think it is how I was told stories that has had a greater effect on Storybox than any particular book. I was always read to as a child, and my Mum has a particular talent for expressing different character's voices. I have fond memories of my Mum making up stories for me and my sister whilst we walked home from the beach. They featured a girl named Agapanthus and her adventures always involved things we saw along the journey. Walking was never a dull task in our family.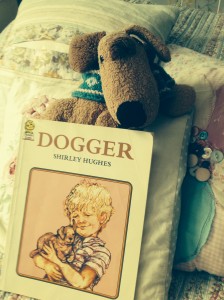 This idea of a 'story journey' as I experienced with the adventures of Agapanthus is what I hope makes Storybox. The difference between reading a story with a child and 'storytelling' can be minute. When it's done well though, it captures the imaginations of little minds already bursting with wild adventures.
Felixstowe Library has played a major role in my love of books, it was a treat each summer to join the Reading Game, and then as time passed I became a volunteer on the same programme. Last year I started Storybox over the summer holidays, after having run a similar scheme at Waterstones book shop in Canterbury whilst at university. After attending many of the Felixstowe Book Festival events last year, and finding the weekend to be a wonderful success, I am delighted to be doing my bit in this year's festival.
Storybox uses actions, songs, drama and craft to help children jump into a well-loved (or soon-to-be-loved) story. My favourite thing about Storybox is seeing how children of all ages dive into a story and become completely lost in another world, swimming in the deepest of oceans or flying with a family of dragons. With all of today's technology it is refreshing to see that a good old fashioned book still never fails to capture a child's imagination.
Emily will be weaving her storytelling magic on Saturday 28th June at 11-12 for 3-5s and 12:15-1:15 for 5-7s (age guides approximate, younger and older are welcome) in the Children's section of Felixstowe Library. Tickets are £2 and available from Felixstowe Tourist Information Centre or Abbeygate Lighting. All children must be accompanied by an adult. We will announce the stories Emily will be using nearer the time so stay tuned!