This week's guest post comes from our regular reviewer, Elaine Simpson-Long. She gives us her view of Diney Costeloe's intriguing new novel, The Ashgrove. The author herself will be joining us at the festival to discuss her writing, on Sunday 29 June 4.30-5.30pm. Come and discover her work for yourself!
Sometimes I wonder why I don't read a book sooner and why it sits on my shelves awaiting my attention. This is the case with The Ashgrove and I have been telling myself off over the last few days for ignoring this marvellous story. My only excuse is the size of my 'To be Read' pile (more a book case than a pile really!). Anyway, I have now read it – in three hours straight as I simply could not put it down once I had started.
The book opens with Rachel Elliot, a local reporter attending a planning meeting in Charlton Ambrose which has been called to discuss a proposed housing development. The developer naturally assumes he will get his way but is caught napping by the appearance of an elderly lady, Cecily Strong, who accuses them of planning to cut down the Ashgrove, a group of trees planted as a memorial to all the local men who died in World War One.
Rachel sets off to find out more and in so doing discovers that she, too, has a link with those commemorated by the planting of the nine trees.   Originally there were eight, but a discovery is made that somebody has quietly and secretly planted another:
"She pulled her daughter, and his, into her arms and their tears mingled in the darkness with the falling rain. For a moment they stayed kneeling on the wet ground and then the mother got to her feet…'This is our secret,' she said gently. 'You mustn't tell anyone about us planting this tree for your dad'…
The ninth tree stood peacefully in the moonlight, an extra tree in a new made grove of remembrance."
So who is the soldier for whom this tree was dedicated, and why was it planted?  Diney Costeloe takes us back to France in World War One where Sarah, the daughter of the local squire, and her maid, Molly, are working in a hospital attached to a convent. Here Molly meets Tom, an orphaned young man who has never had any family, and they fall in love. Their involvement has to be kept secret as fraternisation with the patients is frowned upon, but they become engaged before Tom is sent back to the Front.   His commanding officer is Captain Hurst, Sarah's brother, and it is to him that Tom turns to obtain a special pass to return to the Convent for a day so he can marry Molly, now pregnant, as he wishes her to have the status of an army widow should anything happen to him.
Told that he can have his pass but not until the so-called 'big push', due very soon, is over, Tom finds himself under fire, isolated and miles away from his unit.  He manages to find his way back to the lines, helping bring in a wounded soldier and, in the confusion and mayhem, assumes the 'big push' is finished and he can now fulfil his promise to Molly.  Unfortunately, his uniform was destroyed in the mud and the rubble and the pass has been lost…
I freely admit that by this stage I was in tears. I found The Ashgrove moving and captivating and it kept me pinned to my armchair all one afternoon, so engaged was I. Diney Costeloe has told me that part of the inspiration for this book was the 'Avenue of Remembrance' in Colchester, where I live.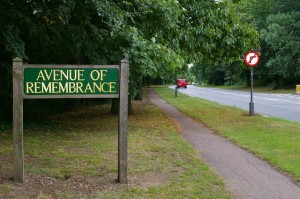 "This avenue is part of the old 1930s Colchester by-pass. It was planted in memory of the men of Colchester who were killed in WW1. It is a true picture in blossom time and autumn. As late as the mid-1960s each tree had a plaque commemorating the clubs and societies who planted the individual trees. A couple of years ago there was a proposal by the Borough to fell all the trees on one side of the Avenue to put in a Park & Ride Bus Lane. This crass act of disrespect was savaged by the people of the town. Now the Council says it is "committed" to preserving the trees. It is replacing dead and dying trees with semi mature replacements".
This little excerpt from a local archive sums it up really. It reminds us just how important the act of memorial is, as a long-term tribute to those who gave their lives.
Strongly written and heartbreaking, The Ashgrove is a book that should be read, particularly in this year when we are remembering World War One. I am glad that I read this and Diney's earlier book, Evil on the Wind (reviewed here), as they remind us of events that should never be forgotten. My thanks to Diney for sending me a copy of this marvellous book.
You can read more of Elaine's reviews on her blog 'Random Jottings' – click here.