For all that we have been publicising 'Felixstowe Book Fest' across our website, Facebook and Twitter pages, (and it's true that is has a certain ring to it!), I can't help feeling that there is a  level of inaccuracy in this name – after all, it is not just books that we will be celebrating in two weeks time; rather, it is the written and spoken word in all its forms.
For evidence of this diversity, one need look no further than our fantastic range of poetry events, which will be taking part on Sunday 29th of June at the Orwell Hotel. Their subjects and styles may differ dramatically from one another, but all of our poets have one thing in common: a love of language. And I must confess that, in this age of short attention spans and 140-character limits, it is both reassuring and refreshing to hear from those who manage to convey the most complex ideas and evoke the most potent emotions out of just a few lines.
But poetry remains a divisive form of literature. So many people don't give it a chance, deeming it too pretentious, too inaccessible or simply too unwieldy. I myself have been guilty of abandoning hefty anthologies in favour of a nice comforting novel. And yet when poetry is at its best, it can become iconic and timeless.
I think part of the problem is that poetry, more than any other literary form, needs to be read aloud to be properly appreciated. A poem written on a page seems somehow inert, waiting to be read and brought to life. Until you hear the intonation and rhythm of the poet's words out loud, you don't really take them in.
And that's why I would (in my long-winded way!) encourage poetry skeptics to come along to our special events on the 29th of June. First up, we have Gloucestershire-based poet Peter Wyton, who has been writing poetry since he was a child and whose work has been featured on BBC Radio. Peter, a former RAF officer, will be joining us from 12.15-1.15pm to talk about his poetry inspired by World War One, and he will be reading a selection of poems from the upcoming Oxford Book of War Poetry.

For those still uncertain about the definition and role of the poetic form, I would recommend our fascinating panel discussion, 'What is Poetry', which will be hosted by the Suffolk Poetry Society, 1.30-2.30pm. The panel includes performance poet poet Rowan James, editor of arts website InSuffolk.com, Doug Coombes, and Suffolk Poetry Society Members Florence Cox and Caroline Gilfillan.
Caroline, a prize-winning poet in her own right, will be sharing her expert advice in one-to-one poetry surgeries, from 10-1. If you're a budding wordsmith yourself, don't miss this fantastic opportunity to get feedback on your work. Make your appointment now! Caroline.Gilfillan@btinternet.com  01328 855545
From 3.30-5pm, you can hear from Polish poet and translator Maria Jastrzębska, who will be joining fellow Polish writer Ziemowit Szczerek to talk about contemporary Polish writing, and will be reading from her work in both Polish and English. Maria has published three poetry collections and has been featured in the British Library's 'Poetry Between Two Worlds' project.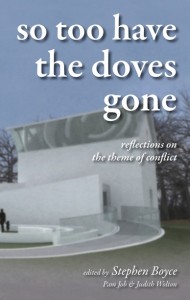 Finally, we will be ending our poetry line-up with a very special event featuring 'So too have the doves gone', a new anthology of poems which reflects on conflict and war, and which has been edited by Suffolk-based poets. Come along 6-7.15pm to hear a selection of poems from the collection read aloud. This is sure to be a thought-provoking and moving event.
So there you have it! Hear our acclaimed guest poets read their work aloud, and give this versatile and exciting form of writing a chance. To find out more about any of these events, including ticket links, click here.