With just a few days to go until the festival takes place, we at Festival HQ thought it was high time that we put together a little guide to Felixstowe, for those joining us from further afield. Whether you'd like to explore the town in between events, schedule in a trip to the beach or just grab a bite to eat, here are our top picks for places to go and things to do while you're with us.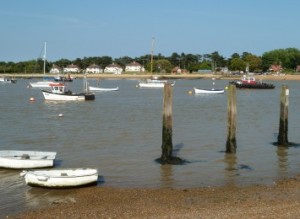 To begin our virtual tour, let's start at one of our most prominent landmarks – Felixstowe Ferry. This tiny settlement to the east of the town has a charm all of its own, and is surrounded by beautiful views. You could stop off at the Ferry Café for a fry-up, try some fresh seafood, stroll along the seaside paths or even take the foot ferry across the river Deben to Bawdsey, a village which became famous as a pioneering centre for radar research during World War II. The sense of history is strong on both sides of the river; look out for the imposing 200-year-old Martello towers dotted along the coastline.
This weekend we'll be lucky enough to have Arthur Ransome's yacht 'Peter Duck' moored at the ferry, as its owner Julia Jones will be joining us to talk about 'Boats and Books' at the festival (Saturday 10.30-11.30). She'll also be hosting a special workshop for children (Saturday 2.30-3.30)!
So, you've wiled away a relaxing hour or two at the ferry – what's next? Continue your route back westwards, along the newly renovated promenade which stretches for two miles alongside the seashore. Once you've rejoined the road at the bottom of Maybush Lane, why not stop off for a drink at the Fludyers Hotel, which boasts some fantastic sea views. Continue wandering along past the pastel-shaded beach huts until you reach The Alex, which offers afternoon teas and coffees, great pub food and bistro dining.
We're hoping for sunshine at the festival this weekend, and if the sun does come out you'll be in need of some cold refreshments, so why not check out the Little Ice Cream Company, situated right near the pier and leisure centre. This ice cream parlour uses milk from a local dairy herd, and has a delicious range of sundaes, milkshakes and snacks on offer. If you can resist the draw of the amusement arcades, turn away from the seafront and make your way up through town along Hamilton Road to check out some of our great independent shops.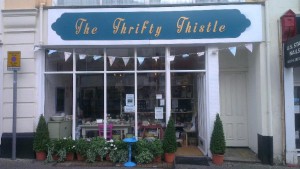 First up, seek out some treasures at Vintage by the Sea, a charming boutique selling antique and new homewares and bric a brac. Pop next door for some creative fun at Crafty Coffee, an arts and crafts café which will be the venue for our creative journaling workshop with Felicity Karena (Sunday 29th, 11-1). Indulge your artistic side in this friendly and relaxing environment, then be inspired by other creative types at The Thrifty Thistle, just across the road. This furniture-renovation business stocks a great range of crafts made by local people.
If your shopping spree has left you feeling peckish, grab some lunch at The Sandwich Shop, and follow it up with some sugary delights from The Sweet Hut – a nostalgic treat! Of course, if you're after the true seaside experience, you'll want to sample some of our fresh fish and chips – why not stop off at the Orwell Fisheries Fish Bar, just around the corner. More quirky finds await at The Wharf, an off-beat gift shop in the heart of town.

As we move up through town, there are plenty more places worth a visit – perhaps you'll peruse the shelves in one of our brilliant bookshops (of which more info to follow soon!), or maybe you'll take a break for some Mediterranean cuisine at Café Bencotto. From here you're just a couple of minutes walk from Felixstowe Library, where you can join in with one of our fantastic workshops across the weekend – we've got events for aspiring novelists, young storytellers, wannabe crime writers and much more. The Library is also home to our fun-filled programme for children and young people – check out the exciting schedule!

Finally, and fittingly, we finish our virtual tour at the other end of Hamilton Road, at the Orwell Hotel – the other main venue for this year's book festival. Take a look at the wonderful range of events and speakers that will be joining us at this venue this weekend. The hotel will also be home to our exclusive festival bookshop and a dedicated café for guests. My guess is that you won't want to stray too far from our hub!
So, there you have it – Felixstowe in a flash. Enjoy your visit to our town, and we'll see you very soon, book-lovers!