Hello again Booklovers!
Can you believe it? A week ago we were clutching our cocoa and listening to to the fabulous winners of our young people's poetry and adult short story competitions. A week has flown by and all of us at festival HQ have almost recovered from the whirlwind of the last few weeks!
As festival intern for Felixstowe Book Festival 2014, the last six months has been a huge learning curve. From sending hundreds of tweets, to making posters, to contacting schools, to many other odd-jobs I've been privileged to have a hand in many aspects of the festival and I've loved it. Yes, there have been late nights, frustrations and for many months Meg and I thought that we would probably be the only ones at some events, but it was ultimately worth it! To see the local community out in force to attend an event that's all about books was so exciting. Having coordinated the young people's programme I would have to say that my personal highlights were seeing a group of children entranced by Julia Jones' Map Your Own Adventure Workshop and littlies loving our storytelling sessions on Saturday morning. How wonderful that these young people have been given the chance to see just how exciting the written word is so early on in their lives.
Here are a few more highlights I managed to capture over the weekend, please do let us know yours!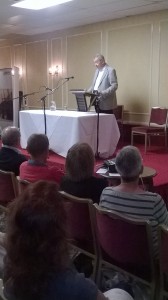 Professor Anthony King opened the festival to a packed out audience fascinated by the topic 'Blunders of our Governments'.
Our Storyteller Emily Rowe engaged 3-5 year olds with the story Otto the Book Bear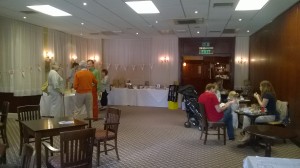 Our bookshop and cafe at The Orwell was buzzing all weekend!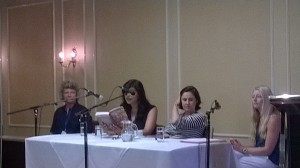 Authors Nikita Lawani and Kamila Shamsie led a fascinating discussion about our festival read What Was Promised. (Our fab volunteers Anna Tink and Jeanette Hewitt are also pictured).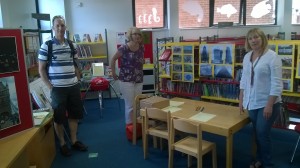 London Guides brought lots of fun to the library on Sunday morning!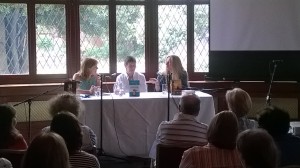 We packed as many seats as we could into His Lordship's Library for Ruth Dugdall, Mandy Morton and Nicola Upson's discussion about the Red Barn Murder. Local true crime never fails to fascinate!
Sophie Crockett signed books for her young fans at the end of our wonderful young adult event in the library cafe. She even gave away the hat that features in her book After the Snow (it was created for a Foyles window display) to one lucky reader!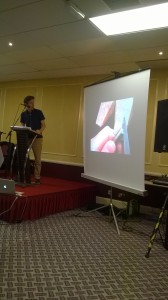 Internationally renowned jewellery designer Alex Monroe told us all about how he creates his work and how he is consistently influence by his Suffolk childhood.
Our Suffragette tea parties all about the local fight for female suffrage were informative and very fun!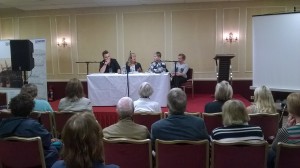 Our events about polish literature were fantastic.
Hopefully that gives you a little taste of all the fun we had at Felixstowe Book Festival 2014. Planning will soon start for next year's festival and we're already on the hunt for sponsors to enable it to take place so do get in touch if you can help. I'm sure you've got a pile of books to read that you accumulated at the festival, so our posts won't be quite as frequent to allow you time to delve into those. Don't forget, there's a backlist of 25 blogs on here though!
I must just say a thank you before I finish this post… you will have noticed that many of our blogs have been written by Rosie Pearce. Together with myself, we have been the Social Media Team sharing out the tweeting, facebooking and blogging to help you all get excited about our fab lineup of events. We both love books and we hope that over the last few months we've helped you to love them a little bit more.
Keeeeep reading!
Much bookish love,
Hannah