So…the cold nights are setting in, you've more or less finished your Christmas shopping (that's the hope anyway!) and you're really starting to get into the festive spirit. What better way to continue our 'Book Advent' than revisiting a classic wintry tale from Beatrix Potter? Her heartwarming stories of creatures great and small always strike a chord at bedtime, but they take on a particular magic at this time of year.
This story was a childhood favourite in my family, and I can still remember the lovely, bittersweet soundtrack from the film that we watched every year. We share the plight of the impoverished tailor as he struggles to finish a sumptuous wedding-day outfit for the Mayor of Gloucester in time for Christmas Day, eking out his last pennies for a few scraps of food and a last precious skein of silk thread. Lonely and exhausted in his Dickensian surroundings, he soon collapses with a fever and it seems that all is lost, with the outfit left unfinished…
All that day he was ill, and the next day, and the next; and what should become of the cherry-coloured coat? In the tailor's shop in Westgate Street the embroidered silk and satin lay cut out upon the table—one-and-twenty button-holes—and who should come to sew them, when the window was barred, and the door was fast locked?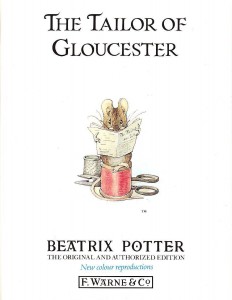 Who indeed? I won't tell the story any further, for those who have yet to discover it, but suffice it to say that the tailor has friends in unexpected places, and a Christmassy miracle  occurs. This sweet story has all the quaint details and anthropomorphic charm that we would expect from Miss Potter, and that's what makes it a perfect addition to our yuletide countdown!