A very hearty hello from festival HQ!
As the North sea winds grow chillier by the day, our 2015 programme gets hotter with some fabulous authors set to join us and events to delight and intrigue. We'll be announcing many of these throughout December as we have planned a bookish advent treat for your delectation, so stay tuned.
Last week we celebrated National Short Story Week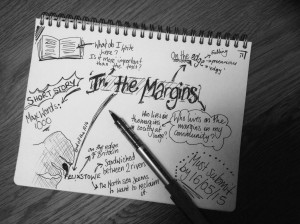 with the announcement of our 2015 adult short story competition. Our challenge, should you choose to accept it, is to write a story of maximum 1000 words inspired by the theme 'in the margins'. Check out our competitions page for a little creative inspiration and all the practical details you need.
Last summer we heard our three finalists read their wonderful stories on the theme 'conflict' at our Bedtime Story event. Kelly Turner's story 'With Deepest Regret' was one of our runners-up and we're delighted to publish it here. So settle down with a cup of tea, have a break from the hustle bustle of this November Tuesday and enjoy…
With Deepest Regret
I've just finished my shift, and I'm certainly glad of it. My feet are throbbing and swollen from all the walking, and now my shoes are pinching. Not that I'm complaining though, this job means a lot to me. While my Fred is off fighting it brings me in a wage as well as keeping me busy, and that can't be a bad thing. And the marvel of being able to call myself a postwoman. Just two years ago that would have been impossible. It was all Fred's idea really, if you cut that man in half he would have "Postie" written through him like a stick of Brighton rock. He's worked for the Post Office since he was a lad, starting off as a messenger boy and moving up through the ranks, so it made sense to him that when war broke out he would join the Post Office Rifles. And he joined up pretty quick too. He was keen to do his bit, right from the start. We were still courting at the time, but we got married soon after. Fred said that he wanted me to make an honest man out of him before he shipped out, and thought I ought to get a job. "They'll still need people to deliver the mail," he had said. And for the most part I love it, although as the fighting has gone on its got harder.
I know that people have mixed feelings when they see me marching up their street in my blue coat, skirt and hat, and I know because I've been in their shoes. Is she delivering good news or bad? There have been times after a big push that silence marks my path. I see curtains twitching, and I can almost hear the prayers of those inside. "Please God let her walk on by our house. Let him be safe. Let him be alive." Being the bearer of bad news is difficult for me too. Yesterday I delivered another letter to another young woman, probably not long married, just like me. I watched her hand shake as she reached for the envelope. Her voice was barely a whisper as she said "I can't read." I've been through this before, and because it happens so often the Post Office has it's rules about it. I asked if she had a neighbour who could read it for her, but she shook her head and said "could you read it for me?"
   "Of course I will," I said, and followed her into the house removing my hat as I did so. She offered me a seat, but I said that I was happy to stand. She sat in her armchair, back straight and hands clasped on her lap as I opened the envelope and started to read. "It is my painful duty to inform you that your husband Private Jack Peterson was killed in action this evening. He died bravely and instantaneously." I continued to read, glancing up at her occasionally, but her face was like a mask. "I'm so sorry for your loss, " I said when I had finished, but she didn't seem to hear me, she continued to stare off into the distance. I wondered what it was she saw. Was she looking back at the past, her wedding day maybe, or was she imagining the man she loved cut down in a field of mud and death. I laid the letter onto the table, and left her to her grief.
Do you know how many letters the Post Office deals with every day? The war has added millions of letters and parcels to the work that the Post Office was doing already. There are many women writing to soldiers that they have never met. My friend Ethel took up the call to write to a lonely soldier at the front, and now she's engaged to him. Although the Post Office does its best, with this amount of work occasionally mistakes are made. One of the girls I work with told me the story of a friend of hers. She was writing to her husband as we all do, telling him all the little things that were happening at home and sending him parcels. He would write back, thanking her for the home comforts she sent and reassuring her that he was doing ok. Then his letters stopped. She started to worry, obviously, but hadn't got a letter from her husband's commanding officer, so tried to stay positive, and carried on writing to him. One day a parcel arrived for her. Inside were her husband's bible, name tags and belongings, alongside the unopened letters she had been writing to him. She knew straight away what had happened, but it was another two days before she got the letter telling her he had died.
And then there was this morning. I delivered a letter to Mrs Collins down the road from me. She took one look at the writing on the front of the envelope and collapsed in tears on the doorstep. I knelt beside her, and put my hand on her shoulder. "It's from Stan" she said. Her Stan had died a couple of weeks ago. I helped her to her feet, and back inside away from the prying eyes of the neighbours. I know I was on duty, but what else could I have done? I put the kettle onto boil, and made us a pot of tea while she read the letter. When I came back in her tears had stopped, although she was dabbing under her eyes with her handkerchief.
   "He said he had been shot in the leg, but that it wasn't too bad." She made a little choking sound, somewhere between a sob and a laugh. "Silly sod, he did always try to see the best in every situation."
I took a sip of my tea. "Did you get a letter from his CO?"
   "Yes. He said the wound became infected, and they had to amputate. He lost a lot of blood, and didn't come round after the operation." She started to cry again.
   "What else does Stan say in his letter?"
   "He says he thinks about me every day and he can't wait to see me again." She looked up at me and hugged her arms to her body. "What am I going to do without him?"
I didn't know what to say, so said nothing. We sat in silence for a bit, my hand resting on hers, before I had to take my leave.
The news affects everyone in different ways though, and some reactions you never forget. Just after I started the job I delivered a letter to a woman whose friend was visiting. They both stood on the doorstep as I handed the envelope over. I was never sure what to do back then, and tended to wait around until someone gave me leave to go. The woman ripped open the envelope, and exhaled loudly. "He's dead," She said. She started to cry, and clasped the crucifix at her neck. "Oh thank God, he's dead." I stared at them in disbelief. Her friend placed an arm around her shoulder. "He'll not lay a hand on you or the children again. Not where he's gone."
   "I was so worried about what would happen when the war was over." She placed a shaking hand onto her chest.
  "Well now you don't have to. You can move on."
The woman looked up at me and smiled.  I'll never forget that smile. "Thank you so much," she said.
I stop off on the way home to visit Mrs Taylor. She is in her sixties, and has been a widow for many years She has three sons away fighting. One is in Italy, and the other two are in France. She is so proud of them. Fred and I have not been blessed with children yet, but I can't imagine what it must be like to send them off to war. Me and Mrs Taylor meet up a lot and talk over tea and cake. "I got a letter from George today," she tells me. "His friend Burt died when they were on patrol together. German sniper got him."
   "Poor George. That must have affected him deeply."
"I think it has. You know what George is like though, he is always trying to spare me from the details, and puts a brave face on." She smooths the napkin on her lap. "He mentions Burt in one sentence, and then goes straight onto a description of the weather."
I smile, "Fred is like that too. It's as if he thinks he's sparing me, but my mind just fills in the gaps."
I know a lot about the situation at the front, mainly from Mrs Taylor and her son Albert, who unlike his brother spares no details. If it makes it through the censor then it makes it into the letter. It's from Albert that we know about the mud, the rats, the fleas. We learn about night watch in the rain, the best way to sit so that the rain pours off your helmet and avoids travelling down into the back of your coat. And we hear about the guns, the relentless noise that shakes you to your core. But from everyone, including Fred and George we learn about the camaraderie. I am so grateful to the boys who fight alongside Fred. They are the family that look after him until he can come back to me.
The afternoon is drawing in, the dull October light is fading, and so I give my thanks to Mrs Taylor and make for home. There's a chill in the air as I step outside, and I draw my coat tighter around me. Goosebumps prickle my arms, and I rub them to keep warm. I walk round the corner back to my home, and see one of my colleagues standing on my doorstep. She looks like she has been there for some time, she has her back to me. I watch her shift her weight from side to side to keep away the cold. Then she turns around and sees me. She is in uniform, and holds a buff coloured envelope in her hands. My legs suddenly feel weak as I step towards her. She moves towards me her arm extended. "I'm so sorry," she says. I look at the envelope, see the stamp of the field hospital, and I know. Before I even open the letter I know.