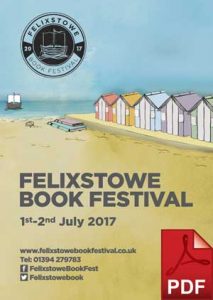 Click on the programme to the right to see our 2017 events.
Our 2018 Festival events will be listed in full by May 1st 2018 but please check below for details of any events taking place in the meantime…
Date/Time
Event
24/06/2017 - 02/07/2017
9:30 am - 4:00 pm
Book Trail
Felixstowe Town Centre, felixstowe
29/06/2017 - 03/07/2017
2:00 pm
Big Book Sale!
Felixstowe International College, Felixstowe
Please note, buying a ticket affirms your consent to the possible photographing of yourself as a member of the audience. If you have any objection, please contact a book festival volunteer before the event you are attending.

We reserve the right to make changes to the programme due to circumstances beyond our control.