FELIXSTOWE BOOK FESTIVAL 2021
Delighted that despite all the ups and downs, restrictions, change of venue and all related events the Festival took place over the weekend and was an enormous success.
It was wonderful to see speakers at live events, an excellent audience, all socially distanced but still well attended, and the support from everyone who came along was most gratifying.
Many of our speakers who were due to take part last year returned and a big thank you to them for keeping faith with us.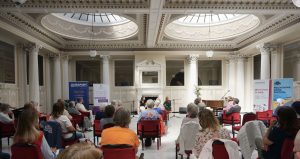 The Festival is very grateful to all our speakers and interviewers, to our loyal audiences, our hardworking volunteers, our Box Office Eastern Angles Theatre Company, Hot Gossip for technical and social media support, Rachel Sloane for PR support, to our business and council supporters (for further infomation on our sponsors please click onto the Sponsors link on the website) Harvest House Weddings for refreshments and to Harvest House for hosting us. We cannot thank them enough.
So now onwards to 2022!
Programme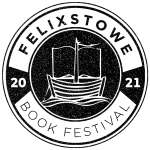 Find out more about our 2021 programme, a mix of socially distanced events and online events,
here
.
The home of books by the sea…The Felixstowe Book Festival 2021 will take place over the weekend of the 25th to the 27th of June 2021.
Our programme this year will be a mixture of socially distanced events, held at Harvest House Felixstowe, and online live-streamed interviews with authors from their sofa to yours.
Tickets go on sale 5 April through our website or by phoning Eastern Angles Theatre Company 01473 211498 (Mon-Fri 10am – 2pm)
Tickets for a Live event at Harvest House in Felixstowe cost £10 (£8)
Tickets for an Online event will be "pay what you can" with suggestions of £5, £8, £10 per event. Please support the festival as much as you can.
Day tickets for Friday night and Saturday £35, £55, £75 (9 sessions)
Day tickets for Sunday £25, £35, £45 (6 sessions)
Online sessions booked for these days will be available for viewing until 11pm on 11th July 2021.
In the event of cancellation full ticket price refunds will be made.  For Live events refunds will be made should you contact Covid or have to self-isolate.
Click on Programme to find out further details about our speakers.
What we've been up to…
Hello booklovers, One month to go until the 2021 Felixstowe Book Festival, the bookish excitement … [Read More...]
Hello booklovers, I hope you are all well and getting suitably excited about the 2021 Felixstowe … [Read More...]
Hello booklovers, It is a truth universally acknowledged that many of us have developed a deeper … [Read More...]
If you would like more information about Felixstowe Book Festival, please contact Meg, Festival Director, on meg@megreid.co.uk or telephone 01394 279783. If you have a ticket … ... more ...