FELIXSTOWE BOOK FESTIVAL – Update
Hello everyone
The Festival is getting closer so please make sure you are booked in for the events you wish to see/listen to as soon as you can to ensure you get the event you want.
As you know, this year the Festival is at Harvest House and, once again, we wish to express our thanks for stepping in at such a late stage and making the Festival possible.
Harvest House have told us that refreshments will be available for all visitors and will be similar to those in previous years, in other words, tea, coffee, sandwiches and cakes and, once again, we are grateful for all their help and support.
The mixture of Live and Online events can be slightly confusing so to clarify – ALL live events are taking place at Harvest House with the exception of the Hosepipe Band.   The Online events are all beamed into your home or wherever you are watching.   You will see on the website that the live events are marked up in Red and the online in Blue and, hopefully, this makes booking a little easier.
There is a chart showing the full programme so you can co-ordinate the Live and Online events should there be a clash.   Do not forget that all online events, once booked, can be viewed online until 11 pm on 11 July 2021.   So don't hold back on booking as many as you wish….
Live events can be booked through our website up to 10pm the night before the event takes place, ie a Saturday event can be booked up to 10 pm on Friday and so on. Online events can be booked up to one hour before they are due to start.
This ONLY applies to bookings made on line.   Should you wish to make a telephone booking please note that the Eastern Angles box office will be closed for the Festival weekend and telephone bookings will not be available.
Apologies if this is all a bit confusing but we do want to make sure you can get the tickets you want. The programme is so varied and interesting and everyone has worked hard to get the show on the road and we all look forward to either seeing you at Harvest House or hearing your thoughts on the online experience.
Thank you for all your support – we could not do it without you.
Programme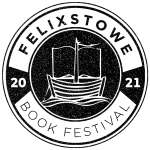 Find out more about our 2021 programme, a mix of socially distanced events and online events,
here
.
The home of books by the sea…The Felixstowe Book Festival 2021 will take place over the weekend of the 25th to the 27th of June 2021.
Our programme this year will be a mixture of socially distanced events, held at Harvest House Felixstowe, and online live-streamed interviews with authors from their sofa to yours.
Tickets go on sale 5 April through our website or by phoning Eastern Angles Theatre Company 01473 211498 (Mon-Fri 10am – 2pm)
Tickets for a Live event at Harvest House in Felixstowe cost £10 (£8)
Tickets for an Online event will be "pay what you can" with suggestions of £5, £8, £10 per event. Please support the festival as much as you can.
Day tickets for Friday night and Saturday £35, £55, £75 (9 sessions)
Day tickets for Sunday £25, £35, £45 (6 sessions)
Online sessions booked for these days will be available for viewing until 11pm on 11th July 2021.
In the event of cancellation full ticket price refunds will be made.  For Live events refunds will be made should you contact Covid or have to self-isolate.
Click on Programme to find out further details about our speakers.
What we've been up to…
Hello booklovers, One month to go until the 2021 Felixstowe Book Festival, the bookish excitement … [Read More...]
Hello booklovers, I hope you are all well and getting suitably excited about the 2021 Felixstowe … [Read More...]
Hello booklovers, It is a truth universally acknowledged that many of us have developed a deeper … [Read More...]
If you would like more information about Felixstowe Book Festival, please contact Meg, Festival Director, on meg@megreid.co.uk or telephone 01394 279783. If you have a ticket … ... more ...