Hello booklovers,
Suddenly it's December and our 2021 festival feels like a lifetime ago. We hope you are enjoying the start of the festive period. Here at FbF we'd like to spread some cheer and give you all some early Christmas presents… in the form of announcing a few of our guests for our 2022 programme!
We'll start with…
Justin Webb and The Gift of Radio: My Childhood and Other Trainwrecks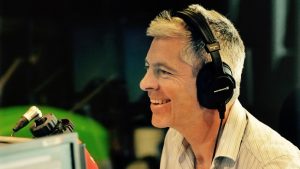 Justin Webb will be a familiar name to fans of Radio 4 – he is the longest serving member of the Today Programme team and has had a career in broadcasting for round about four decades. Through his extensive career he has undertaken roles as war correspondent and Europe correspondent. Amongst his many accolades has been awarded Political Journalist of the Year for his coverage of the Obama presidential campaign.
Justin will be chatting to us about his new book The Gift of Radio: My Childhood and Other Trainwrecks. In this thoughtful yet darkly comic memoir Justin explores his childhood and youth with candour, sensitivity and deep reflection. From life as a child of the '70s with blackouts and terrorist threats around the corner, to family relationships, music and a cold Quaker boarding school, Justin puts the difficult elements of his early life under the magnifying glass and examines issues surrounding parenting, mental health and societal struggle. However the gift of a radio proved to be that spark needed to bring some joy into a young life surrounded by a fair few struggles.
We look forward to welcoming Justin to our 2022 festival for what looks to be a fascinating event.
Keep your eyes peeled for our next Christmas Cracker in a few days time…
Yuletide wishes,

from the Felixstowe Book Festival Team x