Hello booklovers,
It's time for our next Christmas Cracker, revealing another wonderful guest who will be join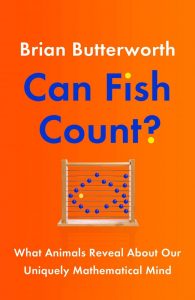 ing us at our 2022 festival. Read on to find out more…
Brian Butterworth – Can Fish Count?
Every pet owner thinks their own dog, cat, fish or hamster is a genius. What makes Can Fish Count? so exciting is the way it unveils just how widespread intelligence is in nature.
We can't wait to meet cognitive psychologist Brian Butterworth as he discusses the intelligence of our animals. In this fascinating book he explores how seemingly 'simple' creatures – like bees who can count fence posts and trees – use numbers to make their way in the world. A paw-fect event for any pet-lovers out there…
Festive wishes,

The Felixstowe Book Festival Team x