Hello booklovers,

Here we have our final chapter of our Christmas Crackers blog series, giving you some sneak peaks into our 2022 festival. We hope you have enjoyed them and that they've given you plenty of bookish food for thought for the coming months. Read on to find out who else will be joining us next year…
We are so pleased to welcoming Nicci French, aka Nicci Gerrard and Sean French, back to our festival.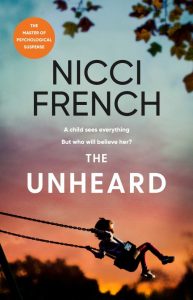 They will be stopping by our seaside festival to discuss their latest novel, The Unheard. 
In this exciting thriller we meet Tess, a single mother whose young daughter Poppy is the centre of her world. However when Tess discovers some disturbing images in Poppy's drawings she starts to fear that her daughter has witnessed a terrifying and disturbing event…
Sounds fantastic – we can't wait to see Nicci and Sean again for what promises to be a fascinating discussion.
And that's a wrap (for those who have yet to clad any prezzies please do pardon the pun…) Wishing you all a very merry and peaceful Christmas and we will look forward to seeing you in 2022.

Yuletide wishes,

The Felixstowe Book Festival Team x