Hello booklovers,
It's not long to go until our festival weekend on the 25th and 26th of June. However if you can't wait that long we are kicking off the literary festivities early with our launch weekend events on the 11th and 12th of June. Read on to find out more…
Martin Newell and the Hosepipe Band, Saturday 11 June 2022, 7-9pm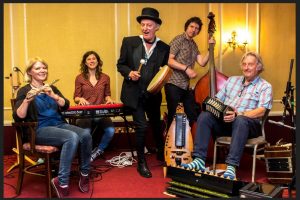 Martin Newell and The Hosepipe Band return to the Felixstowe Book Festival with new offerings as well as poems and music that have proved popular with audiences in previous years.
New pieces include The Professor's Garden, a quartet of poems celebrating the seasons, as well as the affectionate New Elizabethans a poem in which Martin reminds us what ordinary life was like when the Queen first came to the throne.
Ticketing information can be found here: Ticketing information can be found here: https://felixstowebookfestival.co.uk/events/martin-newell-and-the-hosepipe-band-2
Michael Pennington, In My Own Footsteps, Sunday 12 June, 7-8pm (Felixstowe Book Festival in association with Black and White productions)
Michael has been working as an actor and director for the past 57 years. He is an Honorary Associate Artist of the Royal Shakespeare Company and co-founded the English Shakespeare Company. He will be performing readings from his memoir which he says will be "generally funny, unexpected and full of heroes of the past – Paul Scofield, Peggy Ashcroft, Ian Holm, as well of my generation".
Tickets for this event can be booked at https://www.ticketsource.co.uk/two-sisters-arts-centre
Hope to see you there!
Bookish best,

The Felixstowe Book Festival Team x