Hello booklovers,

Today's the day! Welcome to the 2022 Felixstowe Book Festival. We hope you have enjoyed our Bookish Best blog series, celebrating 10 years of the Felixstowe Book Festival. We've been asking some of our 2022 guests some questions about their bookish lives over the past ten years. We've had some fascinating insights from Carol Drinkwater, Esther Freud and Alexander Larman, and will be finishing the series off with festival favourites Nicci Gerrard and Sean French, aka crime-writing duo Nicci French. Read on to see their bookish best bits from the past 10 years…
What has been your favourite read of the past 10 years?
G.B. Edwards was born in Guernsey in 1899. He was on the fringes of the London literary world in the 1920s and 1930s but he drifted out of it and lived a mobile existence ending up as an eccentric recluse. When he died in 1976, he left the manuscript of The Book of Ebenezer Le Page, the fictional autobiography of an ordinary Guernsey man, which had failed to find a publisher. Finally, five years after his death, it was published. It sounds extremely unpromising and when you start reading, it feels like the slightly rambling memories of an unliterary man. But gradually the book takes you over, you come to realise how beautifully shaped and written it is. It's truly one of the most beautiful books written in English of the last fifty years.
What is the best independent bookshop that you have visited in the past 10 years?
We've just moved eastwards in London to Clapton. There are many wonderful things about the area – the wetlands, the River Lea, markets, various members of our family – but one of the most wonderful is our local bookshop, Pages of Hackney. Just walking around the shelves you feel the passion of the staf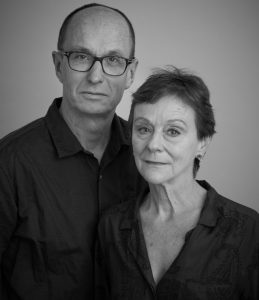 f and of the community that they're part of.
Who is your favourite author who has come to prominence in the last 10 years?
We'd never heard of Svetlana Alexievich when she won the Nobel Prize for Literature in 2015. Odder still, she wasn't a fiction writer but a journalist. But we read her book, The Unwomanly Face of War, in which she interviews women from the Soviet Union who joined the military in the Second World War and we were completely bowled over. It is one of the most vivid, heartbreaking accounts of the reality of war that we've ever read. It shows that great literature can come from anywhere.
Plenty of bookish insights to get stuck into here. Nicci and Sean will be joining us on Sunday 26th June at Harvest House – you can find out a bit more here: https://felixstowebookfestival.co.uk/events/nicci-french-the-unheard.

We hope you have a brilliant festival weekend and emerge loaded down with books and bookish inspiration. Have a wonderful time!

Bookish best,

The Felixstowe Book Festival Team x