Hello booklovers,
How time flies… it doesn't seem so long since we were basking in the early summer sunshine and enjoying festival events at Harvest House and the Two Sisters Arts Centre. Now November approaches, the trees have undergone their beautiful transformation from green to gold, and the nights are drawing in. With that autumnal nostalgia for a past summer in mind, we thought we would take a look back at the brilliantly bookish festival weekend of June 2022…
Saturday 25th June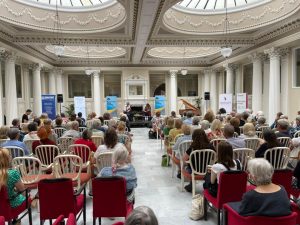 The first day of our festival weekend saw a bumper series of sell out events – Stephen McGann charmed our socks off in the Palm Court with witty stories about the much loved BBC programme Call the Midwife, all available in the beautiful commemorative book, Call the Midwife: A Labour of Love, celebrating the series. Stella Rimington, the first female chief of MI6, held us spellbound with her recounts of her life and her work. Radio 4's Justin Webb brought tears to the eyes as he shared intimate details of his childhood and youth as written in his remarkable memoir The Gift of a Radio: My Childhood and Other Trainwrecks. And Patrick Gale shed fascinating insight into the life of poet Charles Causley, explored in his latest novel Mother's Boy. 
Meanwhile at the Two Sisters Arts Centre, the Suffolk and the Sea Day got well underway, with various authors discussing a whole range of fascinating topics, such as the changing shape of the Suffolk coastline, how the sea is a source of artistic inspiration and the beneficial effects of wild swimming.
Sunday 26th June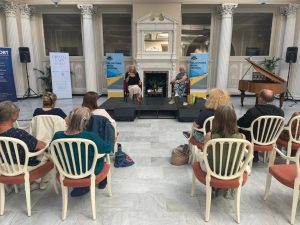 The final day of our festival weekend brought even more talented guest to our stage. Over at the Two Sisters Arts Centre FBF and the University of Suffolk were delighted to host an Emerging Writers Day, jam packed with interesting writing workshops and rounding off with a prize giving for the 2022 short story competition.
Back over at Harvest House, we were so pleased to be able to showcase A New Suffolk Garland, an anthology featuring the works of Suffolk writers published to celebrate the late Queen Elizabeth II's platinum jubilee and the 2022 festival of Suffolk. We also welcomed the legendary crime writing duo Nicci French – Nicci and Sean gave an entertaining and enlightening talk about their lives, their family and their writing process which proved very enjoyable for all involved. Author and poet Blake Morrison teamed up with festival favourites Martin Newell and the Hosepipe Band, performing The Ballad of Shingle Street and other Suffolk Poems. And to round of the festivities, Carol Drinkwater was finally able to join us in person and rounded off our festival with great aplomb, discussing her writing, her acting roles and her life in Provence.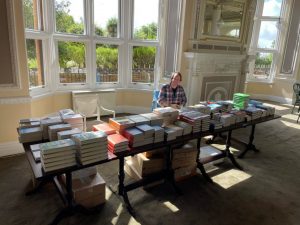 A special mention should also go to the folk beetling away in the background throughout the festival weekend, especially our brilliant band of volunteers and all the team from our festival bookstall, Stillwater Books. All throughout the weekend our festival volunteers worked extremely hard to ensure the weekend went smoothly – we couldn't do it without them!
It was such a brilliant festival weekend, I can't do it justice in a blog post – if you would like to browse our full 2022 to see every detail about the talented guests we brought to you this year, take a look here.
Now we move ever closer to 2023 and rest assured the festival bookworms are busy planning next year's events. Keep an eye on our website for further news soon, plus lots of treats lined up in our festival blog. While you're at it, why not head to our homepage and subscribe to our festival newsletter? You will find the subscribe option in the bottom right hand corner. That way you can receive our news directly into your inbox.
Bookish best,

The Felixstowe Book Festival Team x