Hello booklovers,
Advent is upon us once again and it's time for the Felixstowe Book Festival team to spread some comfort, warmth and festive cheer. W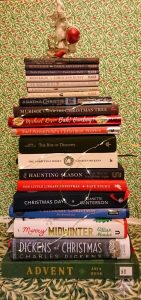 hat better way to do that than through the medium of books?
We all have our traditions at Christmastime – indeed a few years ago we ran a festive blog series where festival authors and other bookish folk shared their favourite Christmas traditions for the yuletide season. Music, food and random yet much loved decorations came to fore, as did books. You can't beat the comfort brought by snuggling down with a good book at any time of year, and even more so at Christmas because of the hearty dose of familiarity, melancholy and fondness that they offer.
With that in mind, here at the Felixstowe Book Festival we are treating you to your very own bookish Advent Calendar, with a different bookish treat hiding behind every door. Check our blog for every day of December up until the 24th to see which festive book is revealed. We hope this brings you some cheer and respite from the busyness and bustle of the season.
Bookish best,

The Felixstowe Book Festival Team x