Hello booklovers,

Welcome to the first installment of your bookish Advent Calendar. We are delighted to start our celebration of yuletide books with… Festive Spirits by Kate Atkinson.
Who doesn't love a short story at Christmas time? Time can be short and a the to-do list can be endless, s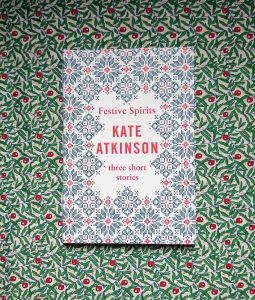 o a short burst of festive bookish fun is ideal. Festive Spirits by Kate Atkinson features three short stories to delight the reader, including Lucy's Day, Festive Spirit and Small Mercies. My favourite of the three is Festive Spirit.
We join husband and wife, Sarah and Richard as they endure a tense dinner celebrating Sarah's December birthday. Kate cleverly uses this setting as a microcosm for the dysfunction deep rooted in their marriage, nodding to the fact that the festive season frequently brings out the worst in people. As with the deftness to be found in her other novels, such as Behind the Scenes of Museum, we find out an awful lot about this couple, their personalities, their history and the nature of their marriage, in a very short space of time.
The story has the air of a cautionary tale, feeling very grounded until the end where a miraculous turn of events come to pass. Of course Christmas is a time of magic and miracles, and long awaited wishes coming true – but in true Kate Atkinson style, this particular, unspoken wish takes a darkly entertaining turn.
I would recommend this to anyone who finds the general air of jollity and merriment a bit much as it offers some sometimes welcome respite from all the good will at this time of year!
Bookish best,

Imogen and the festival team x