Hello booklovers,

Behind Advent door number two you will find… Mistletoe and Murder by Carola Dunn.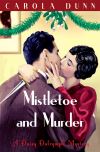 Daisy Dalrymple is the daughter of a Viscount, who has shocked her mother by marrying a widowed policeman and working as a journalist writing articles for Town & Country magazine. Wherever Daisy finds herself she finds a body too, and much to the frustration of her husband, cannot resist investigating
It is Christmas 1923 and Daisy is writing a story about a country house owned by her distant cousin, Lord Westmoor. Daisy and her family are invited by Lord Westmoor to spend Christmas at his ancestral estate with a rich history of ghost stories, rumours of hidden treasure, secret passageways, and a family seething with resentments.
This is a country house murder mystery enlivened by period details and Daisy's delicious insights e.g. the following exchange between Daisy and her husband, about a fellow guest:
"You know, I'm a bit surprised he let his daughter marry a man whose legitimacy was in doubt."
"I daresay he despaired of getting her off his hands."
"Don't be beastly, darling. She can't help her teeth."
This is not great literature by any means, but it's a lot of fun and just perfect for a cosy read during the Christmas holiday.
Bookish best,

Jan and the festival team x