Hello booklovers,

We welcome you through Advent door number four and into the delightful world of Brambly Hedge in Winter Story by Jill Barklem.
There are some books from childhood which, upon re-reading them, helps you understand yours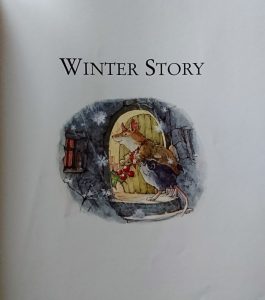 elf a little bit more. After flicking through my Brambly Hedge treasury in search of this sweet seasonal tale, it became clear to me that my love of the countryside, of crafting and of home comes from poring over the Brambly Hedge stories from a very young age. Jill Barklem's intricate illustrations build a detailed world of the inhabitants of Brambly Hedge, blending nature drawing with homely small details, such as patchwork quilts, fine china and four poster beds. I remember being delighted by such details and now find myself emulating them in my own home.
The Winter Story in particular is a favourite of mine and never fails to make me feel cosy. Snowflakes, open fires, chestnut soup, everygreen decorations – we have it all. We join the Brambly Hedge community in the depths of winter as they wake up one morning to discover heavy snow has surrounded their tree trunk homes. Rather than the human response to this – closed schools, icy roads and doom and gloom – the mice throw a 'Snow Ball' and rush into the preparations. There is much merriment, stringing up of crab apples and other decorations and preparing of food. The Snow Ball itself looks like a blast, with well dressed mice whizzing and skidding all over the ballroom floor before retiring to their cosy beds, exhausted.
Festive wishes,

The Felixstowe Book Festival Team x