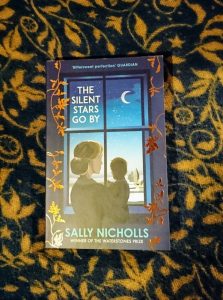 Hello booklovers,
We treat you today to some historical fiction set during the Christmas season, The Silent Stars Go By by Sally Nicholls. 
Sally Nicholls is one of the finest historical writers for children and young adults out there. I love her 'A Christmas in Time' series, but have chosen the thoughtful and nuanced 'The Silent Stars Go By' as todays choice.
Set in the immediate aftermath of the First World War, this book conveys with painful clarity the scarring effect of war on communities and families, with the festive season bringing this to the surface. Painful secrets have been buried in shallow graves and the awful ramifications of what were good intentions are brewing. Three years ago, Margot's life was turned upside down when her fiance, Harry, went missing in action on the Western Front, leaving her with a dark secret, difficult to conceal from her family. Christmas 1919 has wheeled round and all the family return for Christmas for the first time since the end of the war. It is not only a family reunion for Margot, but a romantic one, as Harry reappears once more, hoping to rekindle their relationship.
An interesting historical need, revealing fascinating details about the lives and roles of women in post-war society, with some lovely period details about Christmases past to boot.
Festive wishes,

Imogen and the Festival Team x