Hello booklovers,

Another tasty treat in stall for you today – dig your teeth into The Little Library Christmas by Kate Young.
I first came across Kate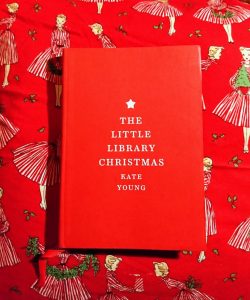 Young as she was interviewed in a food magazine, discussing recipes inspired by her favourite books, and felt an instant connection. I've always been interested in how food is portrayed in literature, specifically children's fiction (I blame a childhood obsession with Turkish Delight on The Lion, The Witch and the Wardrobe). Kate's cook books, The Little Library Year and The Little Library Cookbook, are the perfect combination of elements for me: food and books. Her Christmas recipe book is no different. Salivate over meringues and cream, as consumed by the Fossil sisters in Ballet Shoes; slurp away on some eggnog as prepared by Moominmama for fellow moomins in Tove Jansson's The Fir Tree; prepare Christmas Puddings to put in ones' hat for emergencies, just as Paddington Bear does on Christmas night.
A tempting concoction of tasty recipes and luminous food writing, which would make a lovely gift to be treasured and read cover to cover every Christmas.
Festive best,

Imogen x