Hello booklovers,

Happy Christmas Eve Eve!

Our guest writer Anna draws our attention to a lesser known but just as special festive story – Can It Be True? by author supreme Susan Hill.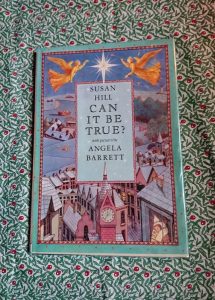 Susan Hill has been one of my literary companions since my teenage years. Her novel In the Springtime of the Year was amongst the first to make me cry, and I have travelled with her through many of her novels, wonderful short stories, chilling ghostly tales and lately to her compelling policeman Simon Serailler.
Can it be True? is a story for Christmas and beyond. In the version in our house it is accompanied by the most beautiful illustrations by Angela Barrett. An important question is being passed through the community at midnight on Christmas Eve. Hunters and hunted alike are joined in a shared purpose to find out the truth. And in this beautiful rhythmic piece of prose poetry, their journey is documented, until they find the answer. A lovely addition to any Christmas library.
Christmas wishes,

Anna x