Hello booklovers,

Today we bring you our final Book Advent installment. We hope you have enjoyed it and that Book Advent has brought some literary cheer to your December. Maybe you will spend the 12 days of Christmas reading some of our recommendations? Book Advent concludes with the work of a much loved children's author who we sadly lost in 2022. We dedicate our celebration of Christmas reads to the one and only Shirley Hughes. Hiding behind Advent door 24 is… Dogger's Christmas. Enjoy!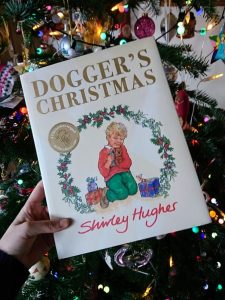 Christmas is a busy time for Dave and his family – there are carols to sing, presents to wrap and treats to eat. In the hustle and the bustle of the celebrations, his cuddly friend Dogger remains. Dogger doesn't mind that Dave has slightly missed him amidst the festivities, or that Dave forgot to hang out a stocking for his faithful friend. But disaster strikes – on Christmas evening, Dogger is missing! Will he be found in time for Boxing Day? Luckily Dave has a very practical big sister who saves the day in a flash of festive sparkle and Christmas magic.
Shirley Hughes once again captures effortlessly the fun and muddle of childhood and of family Christmases, complete with gentle text relatable to all children (and parents…). This is a festive book to treasure and a wonderful tribute to the glorious work of a much loved and much missed children's author.
Have a merry Christmas booklovers, and all the best for a bright New Year. We will be back in 2023 with news of next year's festival. Have a wonderful, festive time!
Christmas wishes,

Imogen and the festival team x