Hello Booklovers,
For me, the James Bond franchise of films was infinitely improved upon during the eras of Pierce Brosnan and Daniel Craig, not only by their own not inconsiderable charms, but by the extra  edge added with the introduction of a female 'M' in charge of the security services,  played with such panache by Judi Dench. Whilst this fabulous dame graced our screens in a fictional capacity, an equally magnificent  dame, Stella Rimington, a genuine 'M', was being publically identified as the Director General  of MI5.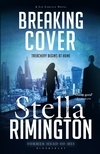 We will be very lucky to have Dame Stella Rimington participating in our Book Festival in Felixstowe in July 2017. To add to her many other talents, and her fascinating professional life, Dame Stella is also a prolific author. Along  with a book of memoirs  Open Secret there is a series of novels to her name, featuring as the main protagonist, a female intelligence officer, Liz Carlyle. The first of these thrillers, At Risk, has now been joined by eight further books, the latest, Breaking Cover was published this Summer by Bloomsbury.  The plots clearly draw on the author's own experiences; adding an authority and clarity of tone to tense and thrilling scenarios;  bringing vividly to life our current World situation as seen by those who know it best.
We very much look forward to Dame Stella's visit to our festival and cannot wait to hear, not only about her fascinating career, but how she brings her experiences  so skilfully to life in her writing.
Get your tickets now for what is sure to be a fascinating (and sell-out!) event!
Anna and the festival Team