We know many of you will be on tenterhooks waiting to find out the results of our adult and children's short story competitions, so here's a little update…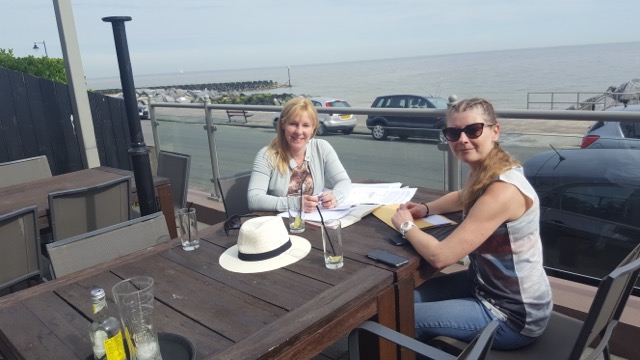 Yesterday Ruth Dugdall and Jeanette Hewitt met to judge the first round of the Short Story competition. They had both read all entries independently, then met at the Fludyers to discuss them.
"The sun was shining, and so was the talent. We were thrilled by the standard of the entries, which covered such a wide scope op topics. We had humour and history, pigs and dogs, and visited Suffolk from Southwold to Mistley."
Having agreed on a shortlist of 10 entries, these have now been sent to Jayne Lindill editor of Suffolk Magazine, and Rosy Thornton, novelist and short story writer, who will chose the three winners.  The shortlist and the winners will be announced at the book festival, at the short story event, on Sunday July 2nd.
The young people's competition also saw a very high standard (and amount!) of entries. Felixstowe Library staff anonymously  read through all of the entries to create longlists of ten entries for each of the four categories. Then our judges, Literacy Ambassador for Suffolk Libraries Matt Shenton, junior fiction author Ruth Fitzgerald and retired teacher David Leney, decided upon the three winners for each category. We will be contacting these talented young writers over the next few weeks and inviting them to an award ceremony in His Lordship's Library, The Orwell Hotel, 5-6pm on Friday 30th June. At this event we will announce who won 1st, 2nd and 3rd prize for each category.
There certainly is a lot of local creative talent!
Hannah and the Festival Team