Hello booklovers,
So here it is, the first promised post taking you back to our wonderful festival weekend 2018. I don't know about you, but when I wasn't helping out at the fantastic array of children's events at Felixstowe Library I was to be found skulking in a Golumn-like fashion around the book stall, unable to take my eyes off the gorgeous stock of books.
We were lucky enough to once again be supported by Stillwater Books this year – based in Hamilton Road, the shop provides a delightful selection of fiction, non fiction and children's books alike and is an absolute jewel in the crown of Felixstowe High Street.
Will and the team from Stillwater Books (who earned a well deserved plug by Salley Vickers at her event, championing the cause of independent booksellers nationwide) did us an excellent service, providing a seemingly never ending supply of beautiful books, waiting to be purchased by our visitors and signed by our fab festival speakers. Without th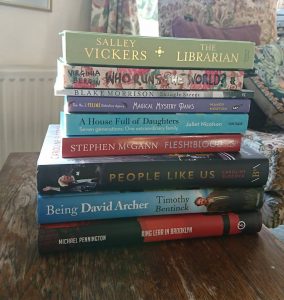 e support of our brilliant local bookshop, I don't know where we would be! The provision of books is crucial to our festival – not only does it allow our visitors to have their precious new purchases signed by the author, but it also allows them to instantly pursue interests in the new topics and discussions they have discovered at the festival events. The image to the left illustrates but a small selection of the stash of literary delights that my family managed to gather up over the course of the weekend! Thank you very much to all at Stillwater Books for your help and support.
'I have gone to this bookshop for years,
always finding the one book I wanted – and then three more I hadn't known I wanted.'
Mary Ann Shaffer, The Guernsey Literary and Potato Peel Pie Society
Bookish best,
Imogen and the Festival Team