Hello booklovers,
It's the seventh of December already! Behind today's Advent door we have one of our most beautiful and much loved carols, 'Silent Night'. Our wonderful committee member and festival volunteer Hannah offers a literary twist on this peaceful tune.
Hannah writes…
'Silent Night has always been a favourite carol of mine. Its beauty is in its simplicity. The calming, lullaby melody is a contrast to the bold imagery of the lyrics. We have shepherds quaking, glories streaming and heavenly hosts singing – one suspects the first christmas wasn't so silent!
This year, in which we have marked the centenary of the end of the First World War, I can't help but think of the miraculous moment just over 104 years ago when this peaceful, unassuming carol sparked precious hours of silence from the usual gunfire. The Christmas Day Truce is documented in many books but there are two gorgeous little ones that I like to pull down from my bookshelf each year.
The first of these is The Best Christmas Present in the World by that giant of children's literature, Michael Morpurgo, and illustrated by Michael Foreman. This tells the story of a man who purchases an old roll-to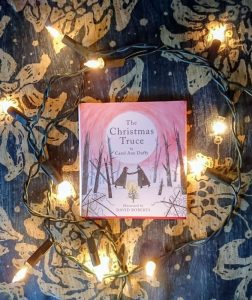 p desk and dislodges a jammed drawer to find a letter written by a young soldier to his sweetheart back home in England. His letter tells of the truce of Christmas 1914 and it is written in such a way that even young children will understand. It's a beautiful, poignant tale with lovely illustrations.
My second recommendation is Carol Ann Duffy's The Christmas Truce. This is one of Duffy's little, square festive poetry books, which make perfect stocking fillers. Each book has a different illustrator who brings a whole new feeling to the work. This one is illustrated by David Roberts whose pictures are at both childlike and haunting. Our Poet Laureate's verse is, of course, completely on point, with not a word wasted:
"Men who would drown in mud, be gassed, or shot,
Or vaporised
By falling shells, or live to tell,
Heard for the first time then –
Stille Nacht. Heilige Nacht. Alles schläft, einsam wacht…
Cariad, the song was a sudden bridge
From man to man;
A gift to the heart from home,
Or childhood, some places shared…
When it was done, the British soldiers cheered."'
Yuletide wishes, until tomorrow x